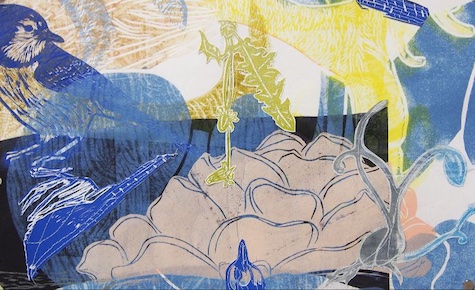 by Tim McMahan, Lazy-i.com
Looks like we're in for a very quiet weekend. No shows at The Slowdown; 1% properties also have no touring indie shows this weekend.
That said, it is the first Friday of the month which means it's Benson First Friday. Get yourself to Benson tonight and enjoy a huge selection of local art up and down Maple Street, including at Ming Toy Gallery, 6606 Maple, where Omaha artist Amy Haney will have an opening for "Don't Let the Name Deceive You," a collection of new works derived from old concepts. We're open from 6 to 9 p.m. and there's booze and treats available.  Come say hi. BFF is starting to have a real festival feel to it. Check it out tonight.
One music show on the radar this weekend is singer/songwriter Theadoore, a quiet acoustic performer, kind of like Suzanne Vega on valium. Also on the bill is Omaha self-claimed "experimental pop band" Sgt. Leisure, singer/songwriter Ben Eisenberger and Goodview. 8 p.m., $10.
Also Saturday night, Garst and Bad Self Portraits are supporting the album release show for Omaha alt rock band Fox Paw at The Waiting Room. $12, 8 p.m. 
And: Saturday is Benson Beerfest. Parts of west Benson along Maple will be blocked off from 2:30 to 6 p.m. "For the price of one ticket, you can enjoy unlimited pours of all your favorite brews, making this festival an unbeatable deal." Admission is $45. 
That's it, folks. If I missed your show, put it in the comments section. Have a great weekend.
* * *
Read Tim McMahan's blog daily at Lazy-i.com — an online music magazine that includes feature interviews, reviews and news. The focus is on the national indie music scene with a special emphasis on the best original bands in the Omaha area. Copyright © 2023 Tim McMahan. All rights reserved.
No Comments »
No comments yet.
RSS feed for comments on this post. TrackBack URL
Leave a comment