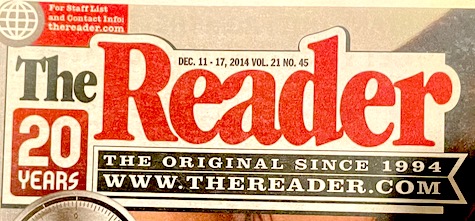 by Tim McMahan. Lazy-i.com
I'm not entirely sure when I first started writing for The Reader. I know it was after the launch of its predecessor publication, which was going strong at the same time I was covering Omaha's music scene for the regional magazine, The Note, published out of Lawrence, Kansas. Somewhere along he way, that predecessor publication became The Reader at around the same time The Note folded after its editor/publisher discovered he was losing a few thousand dollars with every issue published. 
The transition to working for The Reader was seamless; and I carried on covering Omaha (and national) indie bands and musicians through cover stories, features, reviews and columns, all while holding down my real gig at Union Pacific, wondering if someday I would leave the corporate world and take on more responsibilities at The Reader, never doubting the publication would be around forever.
Well, friends, yesterday the gut punch came a-punching, as editor/publisher John Heaston announced The Reader will quit publication after its September issue. You can read all the details in this letter from the editor, but the short of it is that John needs to focus on something more important than deadlines and ad sales. 
Reaction to the news has been extreme, ranging from "This will cripple the Omaha arts scene!" to "I thought they quit publishing years ago." For those who have escaped into social media and left behind formal, locally produced journalistic publications, the loss of The Reader will hardly be noticeable, just like the loss of the Omaha World-Herald, which really died when Buffett sold it out years ago. 
But for those who run art galleries, produce plays, record albums, make films or partake in the products of all those endeavors, the loss of The Reader will be something more profound. In a metro (and surrounding area) whose population exceeds a million — a city currently experiencing an explosion in the growth of music venues, with a nationally recognized food culture and a globally recognized indie music record label — it's both strange and unfortunate that there are no arts and entertainment publications covering it. With the loss of The Reader, that void will become even more noticeable. 
So say your goodbyes. I know I will. On top of everything else, I've written a column for The Reader continually since December 2004 – a little over 18 years. And while I've sweated them deadlines, I'll also miss them along with the opportunity to share my voice and opinions in a print publication. I know there will be other places to publish my words. But will those words be forged with ink on paper? 
After more than 30 years of editing and publishing, Mr. Heaston deserves his chance to focus on the most important things in life. Maybe it's time for someone else to step up and continue telling the story of Omaha's creative class…
. 0 0 0 .
Just a reminder that indie artist Say Hi is performing tonight at a home somewhere in Dundee. If you're freaked out about going to a house show, bring a friend along. The two of you can share in the awkwardness and who knows, you might might meet some new friends. Tickets are $25 and can be purchased here. Upon receipt you'll be sent the secret address. The music starts at 8 p.m.
* * *
Read Tim McMahan's blog daily at Lazy-i.com — an online music magazine that includes feature interviews, reviews and news. The focus is on the national indie music scene with a special emphasis on the best original bands in the Omaha area. Copyright © 2023 Tim McMahan. All rights reserved.
No Comments »
No comments yet.
RSS feed for comments on this post. TrackBack URL
Leave a comment