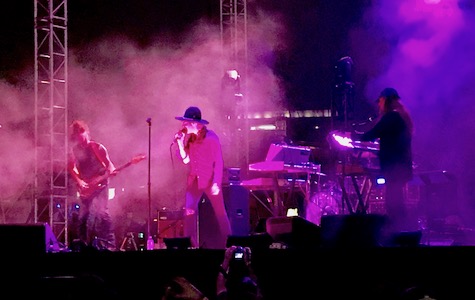 by Tim McMahan, Lazy-i.com
This morning, the folks at Outlandia announced the line-up for their August 11-12 festival at Falconwood Park in Bellevue.  Look, I knew The Faint would be playing somewhere in Omaha this year since they're opening a couple Texas dates for Yeah Yeah Yeahs, and here we are. The Good Life, Tim Kasher's more mellow side project, also is on the Outlandia bill, as is Criteria. The only thing missing is a Conor/Bright Eyes/Desa performance to make it a Saddle Creek Records reunion festival (and hey, who knows who might show up…). 
The full Outlandia Festival 2023 line-up:
Lord Huron – Their song "The Night We Met," has 1.2 billion spins no Spotify and has been used for everything from Budweiser ads to season 1 of The Flash. Needless to say, I'm not familiar with them. 
Modest Mouse – They headlined Maha a few years ago and continue to be staple at festivals. They're known for the single "Float on," but it's The Lonesome Crowded West that puts them on my list of faves.
Jimmy Eat World – Emo personified, though I like their latest release, "Place Your Debts," which was written by Desaparecidos' Denver Dalley and The Faint's Clark Baechle. It'll be like having an Emo night with real emo.  
Gregory Alan Isakov – Nominated for a Grammy for best Folk album, he's another act I'm not familiar with.
Manchester Orchestra –  Seems like these guys have been around forever, kind of a natural for Outlandia considered they booked The National last year. From Atlanta with a new EP out on Loma Vista.
The Faint – Two-time Maha headliners, they always put on a great show and without a doubt will again. Their set will be what people remember from this year's Outlandia, much in the same way Turnstile will be the festival moment for 2023 Maha. 
Cat Power – Legendary Matador Records singer/songwriter whose live shows are like walking on a balance beam – they're either euphoric or a total meltdown — either way it's entertaining. Can't imagine her playing at a festival, especially if it's just Chan and a guitar/piano. 
Horsegirl – One of my favorites from last year, would actually have been a home run booking for Maha. My guess is no one there to see Lord Huron or Manchester Orchestra will have heard of this band.
The Good Life – One assumes Tim Kasher didn't want to do Cursive since they already have a May 16 gig at The Waiting Room to play Domestica in its entirety. This one was a pleasant surprise.
The Envy Corps – Des Moines band that plays 80/35 every year and has come through Omaha a few times.
Criteria – Another Saddle Creek Records entry, anyone who has seen their holiday shows at The Waiting Room know they're really well suited to play festivals. 
Minne Lussa – A favorite local indie band whose pastoral style will be dreamy in a park setting.
We knew it would be hard to beat last year's line-up that featured The National and Wilco. I wouldn't put any of these bands in those bands' category, though Modest Mouse is a big deal. I simply don't know anything about Lord Huron – it's not a band that I've come across over the years, and not someone played on Sirius XMU, so some research is order on my part.
No word on tickets except they go on sale this Friday and will include tent and RV camping tickets. I gotta believe camping tickets will be the first to sell out – what better way to see a festival than to park your RV and walk to the concert site?
* * *
Read Tim McMahan's blog daily at Lazy-i.com — an online music magazine that includes feature interviews, reviews and news. The focus is on the national indie music scene with a special emphasis on the best original bands in the Omaha area. Copyright © 2023 Tim McMahan. All rights reserved.
No Comments »
No comments yet.
RSS feed for comments on this post. TrackBack URL
Leave a comment