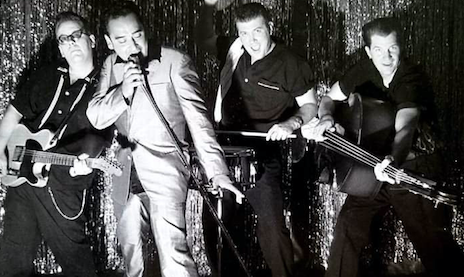 by Tim McMahan, Lazy-i.com
It's another no-indie weekend, but don't fret. Next week is busy thanks to The Slowdown, who has Titus Andronicus on Tuesday and Protomartyr on Wednesday. So… maybe sleep up this weekend?
The only show that moves the needle is the rockabilly sound of The Mezcal Brothers at B-Bar tonight — actually it starts this afternoon at 5 and runs until 8.  No price listed for this show and I've never been to B-Bar but I heard the set-up is nice. 
Saturday night cover band The Damones returns to The Waiting Room. 8 p.m. $10.
Sunday there's a pop-up record shop at fabulous O'Leaver's. It's been awhile since the club has hosted a show, but they have Scout Gillett and Anna McClellan slated for next Friday and David Nance and Mowed Sound just announced a May 6 gig. Come on, O'Leaver's, book more shows!
That's it folks. If I missed your show, put it in the comments section. Have a great weekend. 
* * *
Read Tim McMahan's blog daily at Lazy-i.com — an online music magazine that includes feature interviews, reviews and news. The focus is on the national indie music scene with a special emphasis on the best original bands in the Omaha area. Copyright © 2023 Tim McMahan. All rights reserved.
No Comments »
No comments yet.
RSS feed for comments on this post. TrackBack URL
Leave a comment