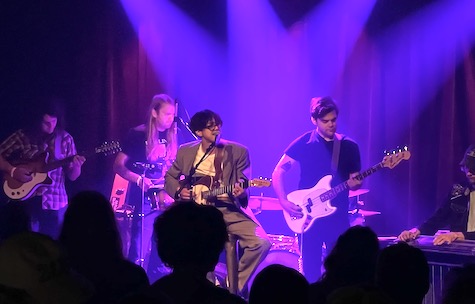 by Tim McMahan, Lazy-i.com
Let's start off with the fact that it's Bandcamp Friday, the one day per month wherein Bandcamp waives its fees and hands over money spent on sales directly to the artists. Some record labels also participate via Bandcamp, so it's a great time to acquire the tracks or even physical albums you've been waiting for.
Omaha legend, singer/songwriter Simon Joyner, always takes advantage of Bandcamp Friday by releasing something special, and this month is no exception. One Carried a Lantern is a new LP by Simon Joyner and The Echoes, released today.
The 10-track album was made using some of Joyner's old home recordings. The band overdubbed tracks to create new, full-band reinterpretations of songs from across Simon's catalog, including a cover of Loudon Wainwright III's "Hospital Lady." The Echoes consists of Mychal Marasco on drums, Sean Pratt on guitar, bass and various instruments, and Megan Siebe on strings, keyboards and various instruments.
Joyner said all sales from the new release will help fund a tour at the end of March, including renting a van and paying the band. The digital version of the album is available immediately; CDs will begin to ship in mid-March once they are handmade and prepared. Purchase here.
Wandering poet and ex-Omahan Kyle Harvey also has a new album dropping today on Bandcamp, called Bloom. This one is more feedback drenched and rough than his earlier releases. Buy it here. When is Kyle going to marry his poetry with his music again to form… songs?
. 0 0 0 .
It being the first Friday of the month means it's also Benson First Friday — the venues along Maple Street in Benson are hosting art opening all evening. Ming Toy Gallery at 6066 Maple St. — the hot new art space run by my wife — is no exception. You're invited to tonight's opening reception for Denise Levy's show, Rural Routes, which runs from 6 to 9 p.m. Come on by, have a beer and say hello. Details about the artist and the show are here.
. 0 0 0 .
Now, onto the music part of the post.
The weekend's big show is tonight at The Waiting Room where Los Angeles-based post-punkers Militarie Gun headlines. The band draws inspiration from Fugazi, Robert Pollard, Black Flag and Born Against, among others. Their sound definitely is reminiscent of early '00s emo. Joining them for this four-band bill is the amazing Nathan Ma Band, along with Bliss and red hot Omaha punk band Cat Piss. $12, 8 p.m.
Also tonight, a blast from the past as Lincoln instrumental prog-punk band The Machete Archive headlines at The Sydney in Benson. Joining them is Pagan Athletes. 9 p.m., $10.
And believe it or not, that's all I got. If I missed your show, put it in the comments section. Have a great weekend!
* * *
Read Tim McMahan's blog daily at Lazy-i.com — an online music magazine that includes feature interviews, reviews and news. The focus is on the national indie music scene with a special emphasis on the best original bands in the Omaha area. Copyright © 2023 Tim McMahan. All rights reserved.
No Comments »
No comments yet.
RSS feed for comments on this post. TrackBack URL
Leave a comment