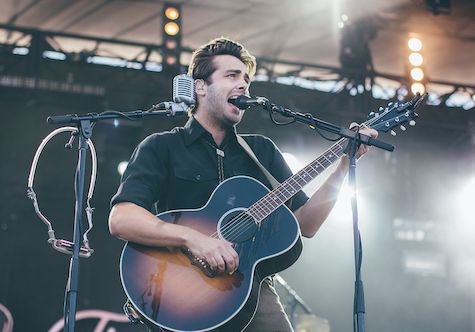 by Tim McMahan, Lazy-i.com
Some meandering thoughts about Outlandia…
I just wrapped up a column for the April issue of The Reader wherein I tried to "translate" the festival's bands into RIYL bands that someone in their 50s who has become disconnected to music might recognize. It was not easy.
As I was writing it, the Outlandia line-up was announced, and I considered including Outlandia bands in the write-up until I discovered that the headliner and a couple other prominent acts were completely unfamiliar to me. I was told by a pal at the office that Lord Huron has played in Omaha many times. Gregory Alan Isakov played The Waiting Room way back in 2011 (with Kyle Harvey opening no less), again in 2017 opening for Blind Pilot and as recently as a few weeks ago at a sold out Admiral show. Manchester Orchestra also has played Sokol Auditorium in 2009 and 2014 according to the Lazy-i Wayback Machine. So how come I'm so clueless about these three bands?
It probably has something to do with how I discover music, which is exceptionally hit and miss. Beyond listening to new bands after they've been scheduled to play in Omaha, I discover new indie music via Sirius XMU (which, by the way, doesn't play anything by those three artists), as well as reading Pitchfork, Stereogum, Brooklyn Vegan and review aggregator Album of the Year, and also word of mouth via social media, where people embed YouTube videos, etc. 
Lord Huron and Isakov, moreso than Manchester, are indie folk artists. Over the past five (maybe 10 years) indie folk and indie singer/songwriter music has been dominated by women. The Maha Festival line-up is headlined by Adrianne Lenker's Big Thief and includes women-led acts Alvvays and The Beths – three of my favorite artists in the past few years. The last male indie folk artist who caught my attention was Christian Lee Hutson, whose sound is in direct lineage with Simon and Garfunkel. If Hutson were to play a local festival, no doubt it would likely be Maha. 
I'm also of an era where record labels were everything when it came to finding new music – Matador, Sub Pop, Merge, 4AD, Jagjaguwar, Saddle Creek, Jade Tree, Carpark, Domino, Dead Ocean, Speed! Nebraska, all the way back to Mute, Factory, Rough Trade, etc – I always gave a listen to artists released on these labels, and still do. Lord Huron's last couple albums were released on Republic, a label I've never followed. Isakov's albums are released on his own Suitcase Town Music. Outlandia act Cat Power, on the other hand, was one of the early big names released on Matador Records, and as a result, I'm very familiar with Chan's output. 
Of course Outlandia's line-up this year goes well beyond the three acts I mentioned above, but really, other than Modest Mouse and the cadre of Saddle Creek Records legacy acts, those three are the ones who are getting the most notice and will sell the most tickets. I have to believe Horsegirl will be a complete mystery folks buying tickets to see Lord Huron, Manchester and Isakov. Horsegirl and Cat Power are my favorites from this year's Outlandia line-up, along with the Creek bands of course (and I'd place Modest Mouse up there if they only played their early material — highly unlikely).
Yeah, I know I'm missing a lot of great music the way I do it, but don't we all?
* * *
Read Tim McMahan's blog daily at Lazy-i.com — an online music magazine that includes feature interviews, reviews and news. The focus is on the national indie music scene with a special emphasis on the best original bands in the Omaha area. Copyright © 2023 Tim McMahan. All rights reserved.
No Comments »
No comments yet.
RSS feed for comments on this post. TrackBack URL
Leave a comment