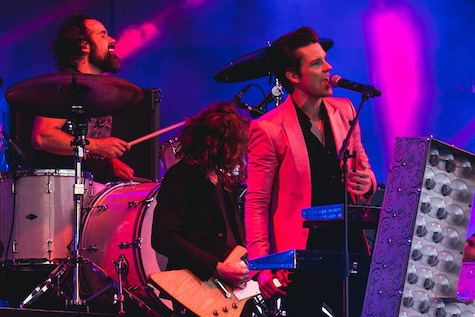 by Tim McMahan, Lazy-i.com
Feb. 13, 2023 – After weeks of speculation, Omaha Performing Arts this morning announced that The Killers will have the honor of playing Steehouse Omaha's inaugural show May 12. It's quite a catch for the 3,000-capacity standing-only venue. 
While it's still too early to predict who they'll book in the future, The Killers provides some pretty solid clues as the type of acts OPA thinks it needs to "bring young people downtown." While still a big draw, The Killers were arguably at the height of their powers in the early- to mid-2000s, nearly 20 years ago. The band definitely hits a sweet spot for older music goers. It'll be interesting to see how well the show sells with those under 30 (or under 20).
If you extrapolate The Killers across a music horizon, "similar" alt-rock bands that could fit in this category would include Franz Ferdinand, Kings of Leon, Kaiser Chiefs, The Libertines, Razorlight, The Bravery, Keane – all acts along with The Killers that are not my cup of tea (as the late, great Dave Sink used to say). I have no doubt Live Nation, who is booking Steelhouse, will also announce, shall we say, "more contemporary" acts in the future.
The primary question from fans of modern indie music: Is Steelhouse/Live Nation willing to book acts that draw in the 300 (or less) range along with big draws like those mentioned above? Is there a way to comfortably host up-and-coming acts that draw smaller audiences without Steelhouse feeling like an empty blimp hangar? If not, I suspect we'll be seeing a long list of "alt rock" bands booked at the venue. Time will tell….
I'll be happy if they can book six quality indie shows a year that I'd buy tickets for. Anything more would be gravy.
A couple other noteworthy shows announced today: Goo Goo Dolls and Fitz and the Tantrums have been announced to play Sept. 23 at The Astro Theater / amphitheater / venue being constructed at 8302 City Centre Drive in La Vista. Mammoth Inc. out of KC will book this new venue, which has been in the works for years. Based on this show, something tells me their booking will be in line with what Stir Cove has historically booked in the past.
And our old friends Cursive will be performing their seminal album, Domestica, May 16 at The Waiting Room with none other than Neva Dinova opening the show. Tix on sale tomorrow!
* * *
Read Tim McMahan's blog daily at Lazy-i.com — an online music magazine that includes feature interviews, reviews and news. The focus is on the national indie music scene with a special emphasis on the best original bands in the Omaha area. Copyright © 2023 Tim McMahan. All rights reserved.
No Comments »
No comments yet.
RSS feed for comments on this post. TrackBack URL
Leave a comment