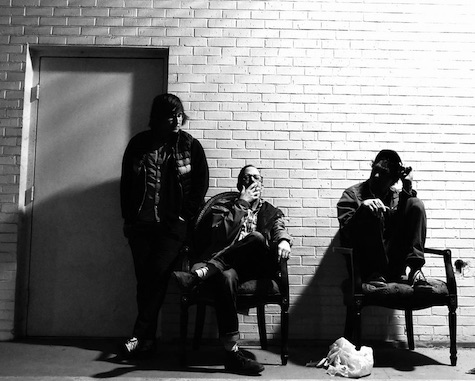 by Tim McMahan, Lazy-i.com
Welcome the the weekend. It all kicks off in Benson tonight with Benson First Friday, which in the coming months will become even more special (more on that mystery later). Get to Maple Street tonight and check out the art scattered throughout the shops.
The Sydney in Benson is celebrating BFF with a heavy-ass show headlined by Lincoln's FACE, Omaha scream-metal band Living Conditions and Jack McLaughlin's synth-powered project, Specter Poetics. $10, 9 p.m.
Saturday night, Dead Letters, the new project by Koly Walter, Brian Byrd (both of Well Aimed Arrows) and Mark Johnson (Places We Slept), is celebrating the release of their new album, Songs from Center, at The Sydney. The album art is a photo of The Center Shopping Center, Omaha's first shopping mall and once home to The Sky Lanes and where I went to see Santa Claus once upon a time. Walter says The Center is a block away from the band's practice space/studio. The band released a second song from the album in Spotify (but alas, not in Bandcamp, where you can pre-order digital album, here.
Opening for Dead Letters is Head of Femur. Koly said his old band, legendary '90s act The Protoculture, used to play with Head of Femur frontman Matt Focht's former band, Opium Taylor, back in the day. Kicking things off at 8 p.m. is Lincoln act The Obscurants (Eric Maly of Slow Pioneers). $10.
Sunday night, Saddle Creek Records act Palm plays at Reverb Lounge. Signed to the label this past July, Palm is a Philadelphia-based four-piece that's been together for a decade. Their last LP was released in 2018 on boutique label Carpark Records. Their rep is for playing inventive art-rock, and they live up to it on Nicks and Grazes (2022, Saddle Creek). Lots o' progressive / dissonant moments on this album, very similar experience to listening to label-mate Voice of the Beehive's last album, a band who's live set earlier this year at The Slowdown was stellar. Like VOB, will Palm bring a different approach to their live set? We'll have to see. The Reader has a fresh Q&A with Palm (by Chris Bowling!), which you can read here.
Opening is Brooklyn duo Water from Your Eyes (Nate Amos of This is Lorelei and Rachel Brown), who's last studio album was 2021's Structure (Wharf Cat Records) $18, 8 p.m.
Lest I forget, today is also a Bandcamp Friday — if you buy your albums today from Bandcamp, the service will pass along its fees directly to the bands/artists (and some labels are following suit), so it's the best time to buy new music, like that new Dead Letters album!
As for shows, that's all I got. If I missed yours, put it in the comments section. Have a great weekend.
* * *
Read Tim McMahan's blog daily at Lazy-i.com — an online music magazine that includes feature interviews, reviews and news. The focus is on the national indie music scene with a special emphasis on the best original bands in the Omaha area. Copyright © 2022 Tim McMahan. All rights reserved.
No Comments »
No comments yet.
RSS feed for comments on this post. TrackBack URL
Leave a comment