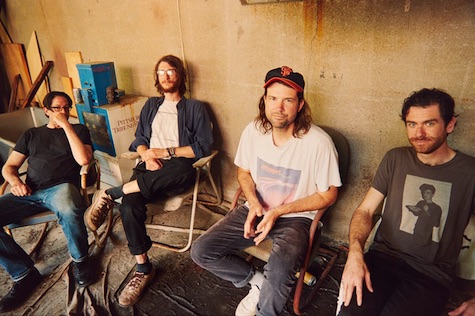 by Tim McMahan, Lazy-i.com
Wild Pink headlines tonight at Reverb Lounge.
The New York band's latest, ILYSM (2022, Royal Mountain), was co-produced by Justin Pizzoferrato, whose credits include work with Pixies and Speedy Ortiz, and Peter Silberman of The Antlers, and includes guest spots from J Mascis, Julien Baker and Ryley Walker, among others. Pitchfork gave it a 7.0 and called it "a richly detailed and expectedly sentimental album that wrestles with all the life and death that exists in the midst of a cancer diagnosis." Eek.
For the most part, it's a quiet, meditative collection that reminded me of Nick Drake, with frontman John Roth's quiet, breathy vocals. The album's title track is among the highlights, rising to a blazing crescendo before coming back down.
Opening band Trace Mountains is a project led by Dave Benton formerly of Sub Pop band LVL UP. Their latest, House of Confusion (2021, Lame-O), has that dreamy early Jackson Browne lilt that goes down easy, especially on tracks like "If You Do." This would be the perfect concert for a warm summer evening instead of a frostbitten last night of November. Early show: 7:30. $15.
* * *
Read Tim McMahan's blog daily at Lazy-i.com — an online music magazine that includes feature interviews, reviews and news. The focus is on the national indie music scene with a special emphasis on the best original bands in the Omaha area. Copyright © 2022 Tim McMahan. All rights reserved.
No Comments »
No comments yet.
RSS feed for comments on this post. TrackBack URL
Leave a comment