by Tim McMahan, Lazy-i.com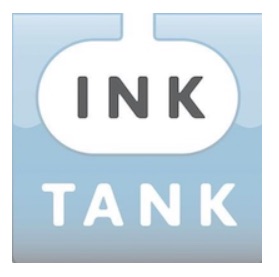 It was nearly 10 years ago when I reported here in Lazy-i that Ink Tank Merch was open for business. The new  Saddle Creek Records subsidiary, operated by Chris Esterbrooks, screen printed T-shirts and other items for touring bands, including Saddle Creek acts. Esterbrooks came to Ink Tank after working at Impact Merchandising for four years handling their clients' tour merch. At the time, Esterbrooks also was frontman for punk band Virgasound and was the former guitarist of the legendary Carsinogents.
From that 2007 Lazy-i article:
"Saddle Creek felt they could offer their bands a cheaper product, so why not get into the market?" Esterbrooks said from Ink Tank's world headquarters, located in the industrial ghetto around 88th and H St. Ink Tank is little more than screen-print presses, a dryer that looks like a giant Quizno's sandwich oven, and lots of storage. Add some computer equipment and a website (inktankmerch.com) and you've got yourself a start-up.
Now it looks like Esterbrooks has moved on, as Ink Tank has been purchased by Kansas City company Seen Merchandising. The following press release, which announces the change, came to my attention last week, but it was only this weekend that I was able to confirm it:
We are excited to announce that Seen Merchandising has purchased Ink Tank Merch. My name is RL Brooks and I am an owner of Seen Merchandising and now Ink Tank Merch.

Seen Merchandising is a full service screen printing shop and e-commerce distribution center located in Kansas City. We have been in business since 2009 and have over 30 years of combined experience among our leadership team. At our Kansas City location, we have a daily capacity of 20k shirts with a staff of 15 team members to support high quality, fast turn arounds with today's most progressive inks. Working with acts such as August Burns Red, Hum, Shiner, Eric Andre, Electric Lady Studios, We are Scientists, Marian Hill, Dexter and many other amazing artists and businesses. We specialize in tour merchandising, retail-ready clothing lines and online store fulfillment

I have been a fan of Ink Tank Merch for sometime now and have become good friends with Pat Oakes, the current production manager at Ink Tank Merch. Over the years, I have felt adopted by the people and culture of Omaha and consider myself a Nebraska native son, as I was born in Lincoln, Nebraska. Pat and I have enjoyed several rock and roll excursions together as well as our shared love for all things screen printing. This purchase is an exciting opportunity for me and my company as we partner with Pat to bring Ink Tank Merch to even greater heights. This partnership will allow Ink Tank to grow its capacity, improve production, offer new products and services as well as provide a better overall experience. Ink Tank Merch will continue to operate under the same name in Omaha.

Pat Oakes, the production manager of Ink Tank for the past eight years, has become an owner in the business and will continue to run production at Ink Tank as well as take on operations management. Pat is committed to working with the team at Seen Merch to grow and improve Ink Tank Merch to be able to provide exceptional products and outstanding customer service…. Pat will become your primary contact at Ink Tank Merch with the full support of Seen Merch's ownership and production staff.

LeAnn Jensen, the current art department manager, will stay with the company and continue to provide the exceptional attention to detail in preparing jobs for for production and lead the outstanding design work you have come to expect from Ink Tank.

Chris Esterbrooks is no longer with Ink Tank Merch and no longer represents Ink Tank Merch in any way.

You may have heard rumors that Ink Tank is closing. We want to assure you that this rumor is entirely false. We have the endorsement of former Ink Tank Merch owner Robb Nansel and Saddle Creek Records to continue and grow Ink Tank Merch. We will be staying open in Omaha with a strong commitment to improving and expanding the services Ink Tank offers you. All online stores will remain up and running without any interruption.
I'm told Esterbrooks is gainfully employed by another local merch/promotions company. I'm also told that Saddle Creek bands will continue to have the option to use Ink Tank, or any other merch company they wish to use, just like they've always had.
Why Saddle Creek sold Ink Tank remains a mystery. Believe me, I asked. Considering how merch has become more important than ever to bands as a source of income in a time when bands can't depend (as much as they used to) on revenue from record sales, you'd think a merch company would be a valuable asset, especially to a record label. On the other hand, Saddle Creek may have seen Ink Tank's sale as a convenient (and profitable) way of getting out of a costly operating expense they no longer needed to carry to satisfy the bands/musicians on their roster…
* * *
And the winner of this year's drawing for a copy of the Lazy-i Best of 2016 comp CD is… Joe Liebentritt! Congrats Joe. Your CD will be dropped in the mail tomorrow. Thanks to everyone who entered.
* * *
Read Tim McMahan's blog daily at Lazy-i.com — an online music magazine that includes feature interviews, reviews and news. The focus is on the national indie music scene with a special emphasis on the best original bands in the Omaha area. Copyright © 2016 Tim McMahan. All rights reserved.
No Comments »
No comments yet.
RSS feed for comments on this post. TrackBack URL
Leave a comment