by Tim McMahan, Lazy-i.com
Kristen Kontrol is the new project by Kristin Welchez, formerly known as Dee Dee, leader of indie rock band Dum Dum Girls, who you may have caught when they played a rainy Maha Music Festival in 2012. Garbage headlined that festival, just like they'll be headlining Friday night's show at SumTur Amphitheatre, which Kristen Kontrol opens. Some might argue after hearing each band's new album that the promoters accidentally reversed the order.
X-Communicate (2016, Sub Pop) sounds nothing like Welchez's last band. Rather than indie punk, Kristen Kontrol's songs — rife with synths, huge beats and fist-pumping, anthemic melodies — recalls such '80s acts as Blondie, 'Til Tuesday and The Motels, with Welchez in the Debrorah Harry/Martha Davis role. These are songs that would be right at home heard on '80s MTV as they are on today's Sirius XMU.
I caught up with Welchez and asked her to take my Ten Questions survey. Here's what she had to say:
1. What is your favorite album?
Kristin Welchez: Right now I'm listening to The Durutti Column's Chronicle on repeat. I can work over it without being distracted, but it moves and motivates me.
2. What is your least favorite song?
The worst thing I've heard lately is the jingle from a White Castle commercial. Fuck all of that.
3. What do you enjoy most about being in a band?
I make music because I can't not. I play in a band because it's the only way to transcend the creative process into something more visceral.
4. What do you hate about being in a band?
Bad A/C in hotels and lack of leafy greens. Not much else.
5. What is your favorite substance (legal or illegal)?
Coffee-and-hash
6. In what city or town do you love to perform?
So many places surprise you, good or bad. Boston has somehow moved to top of the list.
7. What city or town did you have your worst gig (and why)?
Too many to name for essentially esoteric reasons.
8. How do you pay your bills?
Via cheque.
9. What one profession other than music would you like to attempt; what one profession would you absolutely hate to do? 
Customer service for elitists is my nightmare. Social work is probably where I'll end up.
10. What are the stories you've heard about Omaha, Nebraska?
I haven't heard any, but I've definitely contributed to some while in town.
Kristin Kontrol opens for Garbage Friday, July 8, at SumTur Amphitheater, 11691 So. 108th St., Papillion, Nebraska. Showtime is 7:30 p.m., tickets are $45 reserved; $35 general admission. For more information, go to ticketmaster.com.
* * *

Today Milk Run posted a graphic on its timeline under the heading NEDIY. According to Sam Parker, who runs Milk Run, NEDIY is a collective that includes Milk Run, Reverb, The Brothers and O'Leaver's in Omaha, and The Commons in Lincoln.
"We're all in this together, so why not act like it?" Parker said. "We want to start really supporting each other's shows. Not just our own." Sounds like a grand idea to me. Check out the NEDIY July '16 schedule below.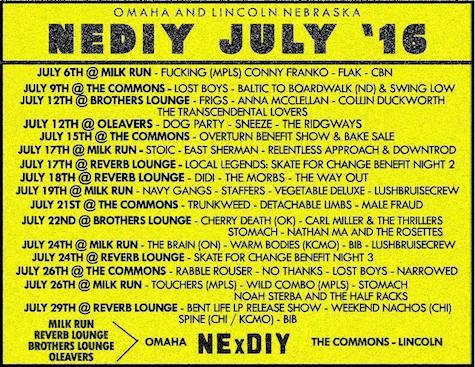 * * *
Tickets to Lincoln Calling went on sale today at lincolncalling.com. You'll notice LC dropped separate all-ages tickets, and for good reason: The Bourbon and Vega have been added to the list of all-ages venues that already includes The Bay and Tower Square — that's a big coup for LC. So, all three-day general admission LC festival passes are available at one price, which right now is a mere $29 — a price that will steadily rise over the coming weeks to $49. Better get your tickets while they're at the "Nice Price."
* * *
Clarification is in order regarding yesterday's Under the Radar post. I said that Nik Fackler's new film will premiere this Saturday as part of the Kaneko event. In fact Nik's film premiers next Saturday, July 23, at Kaneko, a program entitled Meaning in Movement. That event will include a performance by the .tbd dance collective scored with live original music performed by Graham Ulicny of Reptar. Again, that's July 23. This Saturday .tbd dance collective performs at The Slowdown as part of Under the Radar. So look at my screw up this way: You'll get a double dose of .tbd this Saturday and next Saturday.
* * *
Read Tim McMahan's blog daily at Lazy-i.com — an online music magazine that includes feature interviews, reviews and news. The focus is on the national indie music scene with a special emphasis on the best original bands in the Omaha area. Copyright © 2016 Tim McMahan. All rights reserved.
4 Comments »
RSS feed for comments on this post. TrackBack URL
Leave a comment