by Tim McMahan, Lazy-i.com
Faint concerts are becoming a rite of the holiday season, like putting up a Christmas Tree or anxiously figuring out what you're going to do on New Year's Eve (and always getting it wrong).
The crowd last night at The Waiting Room was a one-eighty from the crazy biker AARP crowd at last week's Ritual Device/Cellophane Ceiling show (which, if you missed it, was reviewed right here, posted on Saturday). We got there early again to get a seat and were surrounded on one side by a mother and her high school-aged daughter (though that couldn't be because I saw her drinking a wheat beer) and the other by a father and his teen-aged son (clearly too young to drink, spending most of the pre-Faint time fiddling with his cell phone).
Other than the stools along the ledge off stage right and a few around the soundboard, The Waiting Room staff had cleared the hall of tables and chairs, making as much room as possible for the sold-out crowd and what had to be a monstrous guest list. It would end up being a smart decision though at 8:15 when the opening act was on stage — a guy with a laptop and a microphone who mumbled over head-splitting drone beats — the room looked empty despite a hundred or so youngsters mulling around the floor.
It picked up by 9 when Sucettes took the stage. Dave Goldberg's new band (first reviewed here) continues to be the embodiment of pre-psychedelic '60s rock, a mash-up of Nuggets and surf driven by Goldberg's flashy drumming (and organ playing). There is a childlike quality to their music, simple and happy and smiley-faced and fun, and downright innocent compared to the evil dance noise of The Faint.
As I write this I'm forced to recall the first time I saw The Faint at The Waiting Room, back in 2007, three days after they opened the place, before they tore out the ceiling when the club felt like a dive bar with a big stage in the back. I spent that night standing on a tiered ledge across from stage right above everyone, with a bird's eye view of the mauling crowd below, hot with giddy aggression, chaos and dance frenzy. The bass at that show was pummeling; it was the loudest rock show I'd experienced since the last time I saw Bob Mould eviscerate ear drums at The Ranch Bowl. The bass was so loud and deep and disturbing that it rattled your internal organs, forcing you to wonder if something was being damaged inside your body. It was an exquisite performance.
In comparison, last night's show was tame but still ferocious by modern-day Omaha rock show standards. The set was plenty loud, but not scary loud. The band left its orgy of lighting effects home for this gig, instead leaning on colored floor lights and smoke machines, a throwback to the very early days of The Faint when that was all the band could afford. As a result, the staging naturally felt stripped down, as did the performance.
And unlike the Sokol Auditorium shows earlier this year, I noticed the lack of the band's fifth member. Bassist/guitarist Joel Petersen left The Faint a few years ago, to little or no fanfare, and the band continued well without him, but last night early in the set, his absence left a void on some of the songs. Guitarist Dapose spent the first half on bass instead of guitar, and there were times during older material that something was missing. The four-man line-up sounded best playing Doom Abuse material, which was created with this specific line-up.
And then midway through, for a stunning version of "Animal Needs," Dapose switched to electric guitar and all was right with the world. I assume the bass was coming through either programmed tracks or a keyboard, and it sounded fine, as Dapose scorched the earth with his axe.
As for the crowd, from my vantage point, they didn't really get into the set until the last half, erupting in the usual bounce-bounce-bounce fashion for the greatest hits, but jumping along admirably to some of the new material, specifically "Evil Voices" and "Help in the Head." And of course during the encore and set closer "Glass Danse" that had the entire sold-out crowd bouncing.
You can check it out for yourself tonight, when The Faint do a repeat performance at The Waiting Room. Who knows when we'll see this band again. With this leaner, meaner four-piece ensemble, writing music would appear to be quicker and easier. Will they put out another record this year? Who knows. Without new material, future shows would merely be a repeat, which would be just fine for most of last night's crowd.
Tonight's show starts again at 8. Openers are Ramona and the Slim Dudes and Feel Tight. $20 tickets are still available as of this writing…
* * *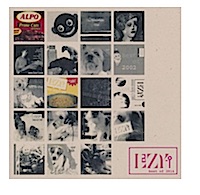 A reminder that you can win a copy of the Lazy-i Best of 2014 compilation CD — it's the special 20th Anniversary Edition. The collection includes songs by Courtney Barnett, Sun Kil Moon, Tei Shi, Protomartyr, The Faint, Stand of Oaks, The Lupines and a ton more.  The full track listing is here. Entering has never been easier: To enter either: 1. Send an email with your mailing address to tim.mcmahan@gmail.com, or 2) Write a comment on one of my Lazy-i related posts in Facebook, or 3, Retweet a Lazy-i tweet.
Hurry, contest deadline is midnight Jan. 6!
* * *
Read Tim McMahan's blog daily at Lazy-i.com — an online music magazine that includes feature interviews, reviews and news. The focus is on the national indie music scene with a special emphasis on the best original bands in the Omaha area. Copyright © 2014 Tim McMahan. All rights reserved.
No Comments »
No comments yet.
RSS feed for comments on this post. TrackBack URL
Leave a comment