by Tim McMahan, Lazy-i.com
With their Aug. 16 concert less than a month away, the Maha Music Festival social channels began gearing up the hype machine yesterday. Maha Board member Tre Brashear tweeted that Maha tickets sales are running "50% ahead of last year, so a sellout is possible."
A sell-out of $50 general admission tickets indeed would be a real coup. Maha tweeted VIP tickets sold out July 1. One assumes this year's headliner, Death Cab for Cutie, is driving those sales. That said, last year's headliner, Flaming Lips, wasn't exactly a pushover (though Maha seems to have gotten the Lips during an era when they are producing their most depressing, uninspired music).
Maha also posted their official schedule yesterday. The Both at 4:30? I would have pushed that back to 8:50 (I know people who are coming only to Aimee Mann and Ted Leo together), but who knows what drives these decisions?
On the other hand, if they really wanted to be ballsy and get people in the park all day, have one of the nationals go on at 1. I know, I know, that just isn't done, but it sure would raise the crowd level for the locals who have the early slots. It'll be a shame if Domestica is playing to an empty field.
Here's the schedule: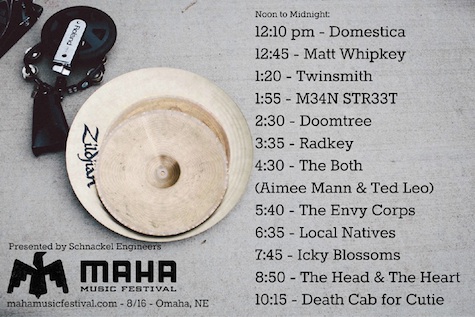 * * *
Lots of shows going on this weekend.
Tonight at The Sydney in Benson it's the debut of Nightbird, a new trio fronted by Filter Kings' Gerald Lee Meyerpeter. Joining him is Scott Zimmerman on drums and Jeff Harder on bass. Lee said expect heavy, hard rock bordering on '70s sludge with a distinct stoner vibe. Bring your earplugs. Also on the card is Old Bones (Rymo lives) and headliner Civicminded. $5, 9 p.m.
Also tonight right down the street at The Waiting Room, it's '90s indie-rock instrumentalists Man or Astro-Man? with Portland rockabilly act Sallie Ford. $15, 9 p.m.
The Barley Street is hosting a Bob Dylan tribute tonight with a handful of locals playing their favorite Dylan tunes. $5, 9 p.m.
And lest we forget fabulous O'Leaver's, where tonight they've got Two Shakes, The Broke Loose and Naked Sunday. $5, 9:30 p.m.
Tomorrow night (Saturday) the marquee event is, of course, Sara Bertuldo's birthday party at The Waiting Room. The celebration includes a performance by Sara's band, See Through Dresses; the debut of the reformatted Little Brazil (read the deets on the new line-up here) and headliners Ladyfinger. Huge. $8, 9 p.m.
Also tomorrow night, The Derby Birds play at O'Leaver's with difficult-to-pronounce bands Illium and Ojai. $5, 9 p.m.
Aaaand… Start your Saturday off early at The Slowdown, where it's time once again for the Omaha Girls Rock! showcase. This is the fourth year for the event, with proceeds going to support the Omaha Girls Rock! project (find out more). One of the funnest shows of the year and a chance to see tomorrow's stars today! Show starts at 5:30, $5 (but you can add more if you want).
That's what I got. If I left anything out, put it in the comments section. Have a good weekend.
* * *
Read Tim McMahan's blog daily at Lazy-i.com — an online music magazine that includes feature interviews, reviews and news. The focus is on the national indie music scene with a special emphasis on the best original bands in the Omaha area. Copyright © 2014 Tim McMahan. All rights reserved.
No Comments »
No comments yet.
RSS feed for comments on this post. TrackBack URL
Leave a comment