by Tim McMahan, Lazy-i.com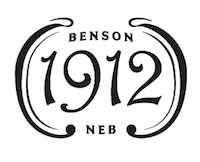 Some additional background on new Benson bar/restaurant 1912, the subject of this week's column in The Reader (read the column here)…
Joe Carmichael, who built the bar along with brother, Bill, says the building's rooftop super-deck has been wired for sound, as in live music. Though there's no immediate plans to start hosting music on the roof, he'd like to see something like "MTV Unplugged" hosted on the deck.
"I'd love to get involved with the OEAA showcases," he added, referring to the Omaha Entertainment and Arts Awards' summer and fall concert series held at bars throughout Benson (The next one is Aug. 22-23).
No question 1912's rooftop deck will be a jewel in the heart of Benson. The views are remarkable. Carmichael said the rooftop also will be available to rent for special events. How they'll balance special events with the needs of his regular clientele will be tricky. We recently had dinner at Benson Brewery and were seated in its new outdoor eating deck located behind the main dining area — stunning. Unfortunately, we were shooed back inside because an invite-only special event was about to start. Fail.
Anyway, read the story (you can also read it in the printed edition of The Reader, on news stands now) and check out 1912 this Saturday during its Benson Days open house. The beer starts flowing July 31.
* * *
Tonight at fabulous O'Leaver's it's Lars & Mal along with Ohio folk/blues/American act Redleg Husky. $5, 9:30 p.m.
Meanwhile, The Waiting Room has Red Wanting Blue with The Alternate Routes & The Talbott Brothers. $15, 8 p.m.
* * *
Read Tim McMahan's blog daily at Lazy-i.com — an online music magazine that includes feature interviews, reviews and news. The focus is on the national indie music scene with a special emphasis on the best original bands in the Omaha area. Copyright © 2014 Tim McMahan. All rights reserved.
1 Comment »
There will never be enough bars in Omaha.

Comment by Lamalavida — July 25, 2014 @ 11:37 am
RSS feed for comments on this post. TrackBack URL
Leave a comment