by Tim McMahan, Lazy-i.com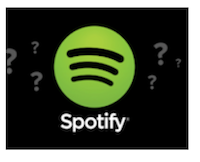 Yesterday Spotify launched a new section on its website tailored to artists that attempts to explain their royalties/compensation system once and for all. It's outlined in semi-detail right here under the headline How Is Spotify Contributing to the Music Business?
It's a long document, but in a nutshell, Spotify declares they're sticking it to the pirates and offering a way to get paid when "the majority of music consumption today generates little to no money for artists."
Spotify says its paid out more than $1 billion to date and $500 mil in 2013 alone. There's a lot of charts and graphs, among them one that shows Spotify's growth (no surprise), the amount the average music listener spends per year on music (only 45 percent of the population buys music at all), and of course their royalty pay outs.
It starts to get interesting when they go into the royalties breakdown — who gets what, etc. A key sentence: "Once Spotify has paid a rights owner the total royalties due for their accumulated streams, that label or publisher pays each artist according to that artist's contractual royalty rates."
So I guess it comes down to the deal you made with your label, right? The page goes to great lengths to throw a blanket over the whole "pay per stream" concept. Or as they say "...we personally view 'per stream' metrics as a highly flawed indication of our value to artists for several reasons."
That's where I get lost.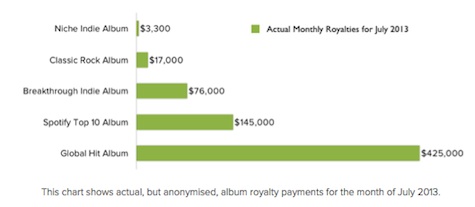 But my favorite part is Specific Payment Figures, where they break down actual pay outs to unnamed artists. In July, something called "Niche Indie Album" was paid $3,300, while "Breakthrough Indie Album" was paid $76,000.
You have to wonder what the "Niche Indie Album" was, because I've never heard anyone getting a check that large from Spotify. Maybe they do and they're just not telling anyone, though there's a plethora of articles online (such as this one) where sizable indie bands outline the pennies they've received for their "niche indie albums."
And what was that "Breakthrough Indie Album" that came out in July?
Expect an avalanche of responses to Spotify's explanations, most starting with the phrase, "Show me the money…"
The hard truth is Spotify and streaming services are here to stay, and they're effectively killing income for small indie bands who have no choice but to make their music available on the service, because as Bob Mould says, "Sometimes you have to sleep with the devil because that's how you get your music heard."
Spotify paints a rosy picture of what will happen when they take over the world. It sounds like the basic cable model that Saddle Creek's Robb Nansel brought up back in 2011. But beyond the royalties issue, streaming services are having an even more insidious impact on artists… more on that later.
In the face of all this comes word that Rough Trade just opened a huge-ass new record store in Williamsburg, NY. Read the Times article here, and a detailed piece from CNET, here (both brought to my attention by Mike Fratt's Facebook page).
People must still be buying CDs and records or they wouldn't be laying out that kind of jack on a new store in Brooklyn (Let alone the fact that we have four record stores here in Omaha selling new vinyl)..
* * *
Tonight at The Waiting Room it's John Klemmensen and The Party with a slew of artists including Underwater Dream Machine, Travelling Mercies and Robo Dojo (no idea who that is). $7, 9 p.m.
And did anyone else notice that One Percent just booked Stephen Malkmus and The Jicks at TWR in March? Sweet!
* * *
Read Tim McMahan's blog daily at Lazy-i.com — an online music magazine that includes feature interviews, reviews and news. The focus is on the national indie music scene with a special emphasis on the best original bands in the Omaha area. Copyright © 2013 Tim McMahan. All rights reserved.
No Comments »
No comments yet.
RSS feed for comments on this post. TrackBack URL
Leave a comment