by Tim McMahan, Lazy-i.com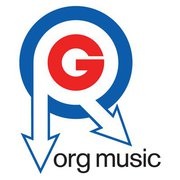 A sharp-eyed vinyl-loving Lazy-i reader wrote in to say that the next Capgun Coup album may be coming out on Org Records.
What's Org? According to Org's Facebook page, "Org Music is signed to Warner Bros Records and distributed through WEA (Warner Elektra Atlantic) and ADA (Alternative Distribution Alliance). We are the official special projects label of the international Record Store Day campaign. We have a variety of marketing & sales, licensing & publishing, promotion & tour, manufacturing & distribution partners worldwide. We offer traditional multi format record deals with active artists, label services and distribution for artist related imprints as well as special project related joint ventures. We are also a catalog support label, having released the most important catalogs in modern music from label groups such as Warner Music Group, Sony Music, EMI, Beggars Banquet and the Universal Music Group."
Org's business includes vinyl reissues from bands like Nirvana, The Replacements, Failure, Sonic Youth, Teenage Fanclub and Beck, but they also do new releases from bands like 400 Blows (who just played at O'Leaver's last week) and New York's Caveman.  From their Facebook wall Oct. 3, Org posted: "We're excited to announce our latest signing, Capgun Coup. Here's a taste of the new record, coming in 2012…" with a link to "Claire Doesn't Care." (embedded below).
[soundcloud url="http://soundcloud.com/capgun-coup/claire-doesnt-care"]
I have yet to confirm this, however. There is no mention of Capgun Coup at orgmusic.com. And no mention of Org on the Capgun Coup Facebook page. In the past, Capgun Coup has released albums on Slumber Party Records and Team Love.
* * *
Milagres plays expansive, spacial vibe music in that Beach House/Grizzly Bear style of dreamy, glowing indie rock. Their new album, Glowing Mouth, was released this year on Kill Rock Stars. The NYC band plays tonight at The Waiting Room with South of Lincoln. $8, 9 p.m. Check out Milagres' sleepy title track, below:
[soundcloud url="http://api.soundcloud.com/tracks/11215368″]
Also tonight…
What's the deal with The Brothers Lounge? Is Tre getting back into the rock show business? Omaha's favorite mid-town punk bar has shows scheduled for tonight AND tomorrow. Unheard of!
Tonight's line-up at The Brothers features local heroes Baby Tears with Jealousy Mountain Duo (described as "German guitar drums spazz avant garde melodic noise..you may also CAN, MOGWAI, and JAZZ," and Video Ranger. $5, 9 p.m. More info here.
Also tonight, Snake Island! is playing at The Barley Street, opening for Dan Tedesco, with Bradley Unit (and the Members). $5, 9 p.m.
* * *
Read Tim McMahan's blog daily at Lazy-i.com — an online music magazine that includes feature interviews, reviews and news. The focus is on the national indie music scene with a special emphasis on the best original bands in the Omaha area. Copyright © 2011 Tim McMahan. All rights reserved.
No Comments »
No comments yet.
RSS feed for comments on this post. TrackBack URL
Leave a comment