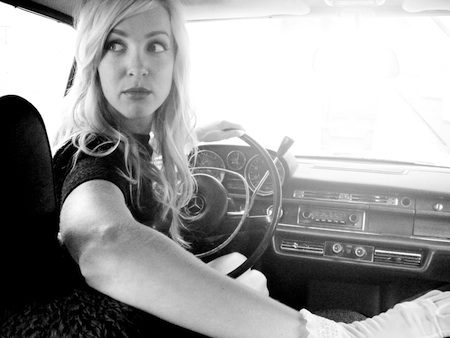 The Mynabirds: Zen Songs
The existential sounds of Laura Burhenn
by Tim McMahan
Sometimes you just have to let it go.
But before you do, you have to acknowledge the situation — reach a level of acceptance — and then, move on. It's a very Zen philosophy, and it's worked for Laura Burhenn, singer/songwriter of The Mynabirds.
She's applied that existential attitude throughout her career, starting as a solo artist before joining with former Q and Not U frontman John Davis for indie pop act Georgie James in 2006.
Georgie James checked off most of the items on the must-do list for indie rock success. They released an album on a respected label (Saddle Creek Records), toured internationally, had their video played on MTV and performed on a late-night network talk show (Late Night with Conan O'Brien).
"From an outsider's perspective, you see those benchmarks and check them off and say that the band was really successful," Burhenn said last week while sipping a Manhattan on the patio at Slowdown.
But less than a year after the October 2007 release of their debut, Places, Burhenn and Davis found themselves trying to communicate through walls, before finally splitting up. "We had different ideas of what we wanted to do musically and where we wanted to go with our lives," she said. "It made sense to do different projects. I never wanted the band to break up. I figured we might go our separate ways for awhile and come back and do another album, but it wasn't to be."
While Georgie James was still in full swing, Burhenn had continued writing and performing as a solo artist in her former hometown of Washington, D.C. "I had been holding back songs for the next record," she said. "I wanted to write a record about reflective consciousness, something really political and heady. I was trying to mathematically work out this symphony."
But Burhenn knew after recording demos that the concept was too complicated and wasn't going to work. Wanting to make a complete break from her Georgie James past, Burhenn was convinced by friend and fellow musician Orenda Fink to move to Omaha in the fall of 2008 and to also join her on tour as a keyboard player and backing vocalist for Fink's project, O+S.
"That experience was totally life changing," Burhenn said. "Orenda's a songwriter that isn't afraid to approach music as art."
When Burhenn returned from the tour, she threw out almost everything she had been working on and started over. She took her new material to the Oregon studio of personal musical hero Richard Swift, a singer/songwriter whose 2007 album, Dressed Up for a Let Down, was a huge inspiration. "The first time I met (Saddle Creek label chief) Robb Nansel I said, 'You have to hear this record. It's amazing.' And he kind of laughed and told me that Saddle Creek put it out overseas."
The label facilitated connecting Burhenn and Swift, and the two finally met at the South by Southwest Festival in 2009, where they agreed to collaborate on her record, with Swift focusing on the arrangements and the two playing almost all the instruments. Joining them on the recording was Fink, musician/engineer/producer AJ Mogis; Tom Hnatow (These United States) on pedal steel; and Nate Walcott (Bright Eyes), who arranged the horns.
The result was What We Lose in the Fire We Gain in the Flood, a 10-song collection of rootsy, gospel-influenced songs about love, loss and resolution that reflects soberly on the past but looks forward with a glass-half-full optimism.
Among the opening numbers is the piano-pounding rocker "Let the Record Show." With the lines "Let the record show, you gave a real good fight / And let the record show, so did I," the song is an after-the-fact account of a relationship gone wrong.
"It's the most cathartic song on the record," Burhenn said, acknowledging its thematic connection to Georgie James. "The idea is that it's not going to help anyone holding onto a terrible experience. It says, 'I don't know what happened here, but I'll figure it out eventually. Let it go.' It's about forgiveness."
That healing theme continues with the dense, gorgeous heart-breaker "Right Place," that looks back at a failed relationship, and closes with the line "I haven't changed my mind, God knows I tried." Burhenn said it was the last song written for the album.
"Until I wrote it, I didn't think I had a song in this whole story that made peace with anything. That song went there," she said. "There's something sad and kind of mean at the end, but resigned. I tried to sing it from my perspective as well as imagining John Davis singing that song. The idea that we tried our best, it didn't work, and it's where it needs to be.
"The album is a very simple story about loss and recovery," Burhenn concluded. "I turn to music to lift me out of dark times."
With the album in the can, Burhenn said other labels were interested in releasing it, but that she stayed with Saddle Creek Records despite reservations she would be "mixing business with pleasure."
"I was thinking, 'These are my friends who I've grown to love. Is this healthy?' But then I thought why wouldn't I want to put out a record with people I trust and admire? Saddle Creek puts out records that they love or by people that they love. I always admired Saddle Creek because it's like a found family."
Burhenn once again looked to Orenda Fink to help put together yet another found family — her touring band The Mynabirds. The group is a who's who of Omaha talent that includes Johnny Kotchian (drums), Dan McCarthy (bass and vocals), Pearl Lovejoy Boyd (vocals), Ben Brodin (guitars and vocals), and Alex McManus (guitars, horns, and vocals). Plans call for a short northeast tour in early June, followed by a full U.S. tour later in the year.
The Mynabirds play with The So-So Sailors and Jeremy Messersmith, Saturday, May 1, at Slowdown, 729 No. 14th St. Showtime is 9 p.m. Admission is $8. For more information, visit theslowdown.com.
1 Comment »
RSS feed for comments on this post. TrackBack URL
Leave a comment