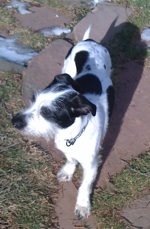 In case you were wondering, I spent New Year's Eve adopting the creature on the left, named Gilda, rescued from an animal shelter in Grand Island. Don't ask what kind of dog she is because I don't know — some sort of weird mix of Jack Russell and Basset Hound. She joins Evie as a member of the Lazy-i Executive Music Review Panel. Prospective bands: She can be bribed with doggie bix.
Speaking of dogs, don't forget to enter to win a copy of the coveted Lazy-i Best of 2008 Compilation CD! All you have to do is e-mail me (tim@lazy-i.com) with your name and mailing address and you'll be entered into the drawing. Tracks include songs by M83, Deerhunter, UUVVWWZ, Brad Hoshaw, Jenny Lewis, Titus Andronicus, Conor Oberst, Vampire Weekend, Tilly and the Wall, and more. Details and track listing are right here. Enter today! Deadline's January 17.
* * *
These holidays are messing with my head. Strangely, It's Friday already, and with it comes the weekend.
Tonight at The Waiting Room it's The Whipkey Three with Brad Hoshaw and Great Atomic Power. $7, 9 p.m.
Saturday is another benefit for The Octopus' Garden Art Alliance, this time featuring Reagan Roeder, Lindsay Donovan, The Whiskey Pistols, Dim Light and Landing On The Moon. $7, 8 p.m.
Reagan, who hasn't been seen anywhere in months, will be a busy man Saturday night. After his gig at TWR, he's driving down to Slowdown Jr. to headline a show with his band The Rayguns. Also on the bill are Why Make Clocks and Watching The Train Wreck. $7, 9 p.m.
–Got comments? Post 'em here.—
No Comments »
No comments yet.
RSS feed for comments on this post. TrackBack URL
Leave a comment