This week's column is a riff on the traditional mailbag column, focusing on the Lazy-i webboard (and webboards in general), so for regular board readers, it's old hat. Fact is, it was a last-minute column written with my back firmly braced against my deadline. Strangely, a couple people who read it said that it was helpful in explaining Lazy-i's relationship to The Reader. If anyone is still confused — The Reader isn't affiliated with Lazy-I (and vice versa). It just so happens that my writing appears in both publications. Incidentally, this was written prior to Kyle Harvey's post on my webboard concerning local radio. I'm following up on that now…
Column 156: Enter the Fray
Better than a letter?

And now a peek into the ol' mailbag… sort of.

Actually, I rarely get letters these days via the U.S. Post in care of The Reader. I'm sure The Reader gets plenty of letters (at least one hopes), but none of them are addressed to me and none of them are published. Most of the feedback from this column and other articles I write for the paper comes by way of a webboard linked from lazy-i.com — the online repository (some might say, dustbin) for all my music writing (and yes, The Reader also has a website where my columns are posted).

Webboards have been around in one form or another for as long as there's been an Internet (and even before. Who remembers BBS?). They're the modern-day equivalent to the town square, where anyone in the world can read and react to whatever is on their minds, anonymously or otherwise. Webboards and blogs are replacing the old fashioned "letters to the editor" pages at most progressive newspapers and publications (which means you likely won't see them at Omaha.com).

Lazy-i's webboard is focused almost exclusively on indie music and the Omaha scene. By far, the most common posts — or "threads" — announce bands' upcoming gigs, CD releases or other music-related news that slipped through the cracks. Some posts point out typos or errors in my writing, of which there is a multitude. Some are kudos; others let me know what an asshole I am. I welcome both roses and rocks tossed in my direction.

Perhaps the most interesting posts are those that ask questions that strike at the heart of the music scene. Here are a few recent ones:

— "JJ" posted on Dec. 28: "Who's the ONE Omaha band that is going to break through on a national level in 2008? Be honest."

Of the 24 replies, the most common response was Baby Walrus, whose debut album is about to be rereleased on Slumber Party Records — a new Omaha label distributed by Saddle Creek. Capgun Coup, who records for Conor Oberst's Team Love label, and Noah's Ark Was a Spaceship also got nods. My take: The breakout band will be the one that gets off their asses and tours. Playing three days a week in Omaha will certainly get you noticed around town, but will keep you anonymous beyond the state's borders, regardless of your hundreds of Myspace friends. I know, I know — but what band? My guess: Eagle*Seagull or Ladyfinger.

— "Bartlett" posted on Jan. 6: "…Omaha has no real radio station representing the sound of the city and no real representation of good local music (outside of Planet O). What would it take to get a good radio station here in town?"

It's a question that's been asked for over a decade. "Boris" replied: "There are a few options: Someone buys a broadcast license for a few hundred thousand (million?) dollars and then invests another million more to establish a new radio station. Someone who already owns a broadcast license decides to change their format to indie rock. I'm not aware of any over-the-air broadcast commercial indie rock stations in this country. (Or) a college or university establishes an indie-themed public radio station. The options are UNO (not happening with classical KVNO already established); Iowa Western (They already have the shittiest radio station in town, which they consider "alternative"), Creighton (indie rock is the devil's music); KIOS (NPR affiliate that recently added a news staff of one, would never take the risk). In summary: It'll never happen." I wouldn't be so sure.

— "JJ" (again) posted Nov. 28: "The Future of Omaha Music, hype or hope?" This simple question was one of the webboard's most popular threads, read more than 3,300 times with 91 replies. Most pointed to the Hotel Frank bands as being both the hope and the hype (or the overyhyped). Hotel Frank is a popular house show location. HF bands include Capgun Coup, Baby Walrus, Bear Country, Coyote Bones, Flowers Forever, The Family Radio, Hyannis, Talkin' Mountain, Dim Light, Honeybee, and a number of bands that never actually played there before but have been lumped in with them just the same.

My posted response: I don't know what people mean by bands being "overhyped." Too many people like them? Their fans/friends are too vocal? They're getting showered with undeserved press? There haven't been very many stories written about HF bands in the "formal press," certainly none in the OWH. The only place they get "hyped" is in blogs (and webboards) — and why shouldn't the writers cheer on their favorite bands and friends? I prefer that over the endless discussion threads on certain webboards where people go on and on about how much they hate a specific band or scene or whatever…

Which brings up the downside to this new electronic town square — its propensity to turn into a haven for bitching and whining. If it goes unchecked, the constant negative vibe eventually drives people away. That certainly has happened to a couple of local webboards. But it won't happen to mine — criticism is fine, but outrageously hateful and/or slanderous comments are immediately deleted, and the person posting the comment is banned from posting again. When it comes to webboards — especially the one that I administer — the First Amendment doesn't apply.

So, you got something to add? Go ahead and drop a letter in the post or send me an e-mail. Or better yet, go to the lazy-i.com webboard and enter the fray.
* * *
Tonight at The Waiting Room, it's Little Brazil with local hip-hop guy Articulate, Old Boy Network and Jamazz. $7, 9 p.m.
* * *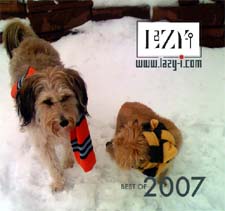 THE DEADLINE IS TODAY to enter to win a copy of the coveted Lazy-I Best of 2007 Compilation CD! Just e-mail me (tim@lazy-i.com) with your name and mailing address and you'll be entered into the drawing. Tracks include songs by Stars, Interpol, Rilo Kiley, Wilco, Les Savy Fav, Justice, Baby Walrus, Bright Eyes, The Good Life, The Monroes, The Third Men and many more. Details and track order are right here. Enter now! Again, the deadline is today. The winners will be announced on tomorrow.

–Got comments? Post 'em here.—
No Comments »
No comments yet.
RSS feed for comments on this post. TrackBack URL
Leave a comment