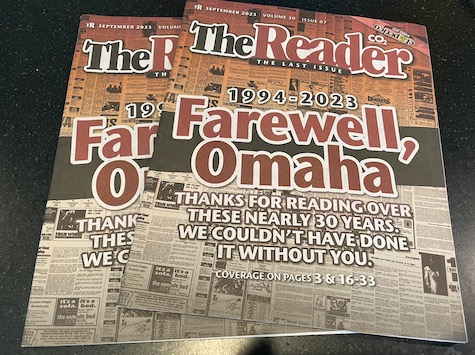 by Tim McMahan, Lazy-i.com
After spending decades writing a column, it was strange not having a deadline to meet this month. That's because the September issue of The Reader is its last issue, as most of you know.
And while there have been a few online tributes (most notably, this lengthy write-up in the Flatwater Free Press), to say the reaction has been "muted" is an understatement.
John Heaston is the patriach of The Reader. His illness was a shock when first revealed; his fight to overcome it, an inspiration. That ongoing battle is the most important thing. I have no doubt John will win that battle and will be with us for decades to come. But it's funny how something you assume will always be around, like The Reader, can go away so quickly. 
What's the old saying: Life is what happens when you're busy making other plans. Those who know me know that my column and other writings for The Reader and this website are merely side hustles, and that I make a living working at Union Pacific, which has been sending me a paycheck since 1988. My "plan" was to devote my time to The Reader as a freelancer after I retire from the railroad, whenever that day would come. But here we are.
So I wrote the following column, which was published in the final issue and which went online here yesterday morning, to gauge interest in creating a new, more focused arts and entertainment weekly; a publication that unlike The Reader, would have no hard news or investigative reporting — The Flatwater Free Press provides that along with the Nebraska Examiner and what's left of the Omaha World-Herald.
Some (or many) might argue the idea of a printed publication is outdated in the smart phone/social media/digital era, and they may be right. Certainly the industry trend would point that way. Still…
. 0 0 0 .
A Goodbye and a Modest Proposal
An argument for a weekly, printed arts and entertainment publication.
by Tim McMahan
So this is it, my last column written for The Reader.
The first installment of this column was dated Dec. 2, 2004. It focused on a young singer/songwriter named Willy Mason who few if any people remember. More than 600 (700? 800?) installments followed in different iterations, all with the same common denominator — they were published in newspapers run by John Heaston.
John is an Omaha hero, there is no other word for it. No single individual has done more for independent journalism than John. He's kept this beautiful paper going longer than anyone thought he could. The Reader is now being put to rest for all the right reasons. Thank you, John, for everything you've done for this city and for journalism. Now it's time to focus on a more important fight, which everyone knows you'll win.
The demise of another printed newspaper shouldn't be a surprise to anyone who has followed the industry's eradication over the past 20 years with the rise of social media. U.S. newspapers die at a rate of two per week, according to a 2021 report by Northwestern University's Medill School of Journalism. According to the report, 360 newspapers have shut down since the end of 2019, all but 24 of them weeklies serving small communities.
In addition to losing The Reader, we've all watched as the once mighty Omaha World-Herald continues to dwindle into a thin ghost of its formal self. And while its Husker football coverage remains first rate, among its casualties is its arts and entertainment reporting.
The irony, of course, is that Omaha's arts and entertainment community is enjoying a much needed renaissance. We've seen hundreds of millions of dollars invested in new performance venues, including Steelhouse, The Admiral and The Astro. There are more music venues now than ever before. Omaha's arts scene also is in full bloom with new art galleries opening monthly, not to mention the millions of dollars going into a remodeled and expanded Joslyn Museum. On top of that, Omaha is becoming renowned for its culinary offerings. Restaurants new and old are getting the attention of national food critics.
Now, maybe more than ever, Omaha needs an arts and entertainment publication to not only cover what's happening, but also to provide a critical voice to tell us what's worth seeking out.
And so, with apologies to Jonathan Swift, here's a modest proposal for keeping critical journalism alive in Omaha:
We need a weekly, printed arts and entertainment publication. This free paper would cover music, art, film, food and theater. Each issue would include a feature for each section as well as reviews and a curated show/events calendar. In addition, a page would be dedicated to commentary and letters to the editor, because, let's face it, it's one thing to see your comments on Facebook and quite another to see them printed in a newspaper.
The paper would be funded by advertising from all these new and existing performance venues, galleries and restaurants (and anyone else willing to fork over some cash), which would also serve as distribution points for the paper, along with other businesses.
The editorial content would be powered by freelance contributors, including some of the writers, critics and photographers who wrote for this very paper. That team would split whatever money is left after printing and distribution costs were covered.
The paper would start small and only grow as needed. OK, but a printed paper?
The key to making it work is to provide content so compelling that people would seek it out and pick it up. But even then, in an age when you can simply scan news on your smartphone, why would people want to read old-fashioned printed words?
The fact is, folks are returning to analog media in droves. The growth in vinyl record sales, for example, is no secret, even though music is freely available online. Sales of printed books also is on the rise despite novels being available digitally. Heck, Barnes & Noble recently announced it's opening 30 new book stores in the wake of record U.S. book sales in 2021, according to NPR.
So in addition to those analog examples, what would it take for people to also value a printed weekly publication? Are there enough readers and businesses left to support such a bold initiative? You tell me.
Honestly, a big part of this idea is purely selfish. As a writer, there's something special and permanent about seeing your words printed on paper. It represents an investment in your ideas much more than seeing those words on a website or in the transient, noisy world of social media.
But more than that, the loss of The Reader is a gut punch to an arts culture that desperately needs an honest critical outlet not only to guide consumers but to provide feedback to the artists, musicians, chefs, thespians and filmmakers who make it thrive. AI and ChatGPT may someday replace news reporting, but it will never replace honest critical writing. Only a human can tell another human what s/he liked or didn't like, and why.
So goodbye, Reader. Thanks for the memories. Here's hoping something rises like a phoenix from your ashes for all of us to see, read and hold in our hands.
You can read Tim McMahan's music and arts writing at his blog website, www.lazy-i.com. Email Tim at tim.mcmahan@gmail.com.
First published in The Reader, September 2023. Copyright © 2023 Tim McMahan. All rights reserved.
* * *
Read Tim McMahan's blog daily at Lazy-i.com — an online music magazine that includes feature interviews, reviews and news. The focus is on the national indie music scene with a special emphasis on the best original bands in the Omaha area. Copyright © 2023 Tim McMahan. All rights reserved.
No Comments »
No comments yet.
RSS feed for comments on this post. TrackBack URL
Leave a comment