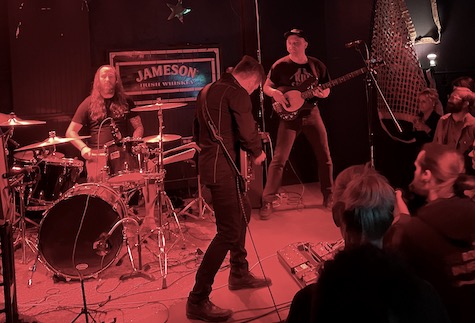 by Tim McMahan, Lazy-i.com
Can't tell you the last time The Machete Archive played in Omaha, but it was years ago.  I was told band members had moved away and returned to Nebraska, which had something to do with this reunion show Friday night at The Sydney in Benson. The last time I did see them play, their sound was thick, fuzzy and furious. Friday night's version of the Lincoln trio sounded tighter, leaner and more aggressive; a cleaner, more refined prog sound that boiled with intensity as it raced through a set of stutter-rhythmed (don't ask me what that time signature was) instrumental art rock. Saber Blazek doesn't kick as high as he used to but you can tell there's plenty of power behind those squat thrusts.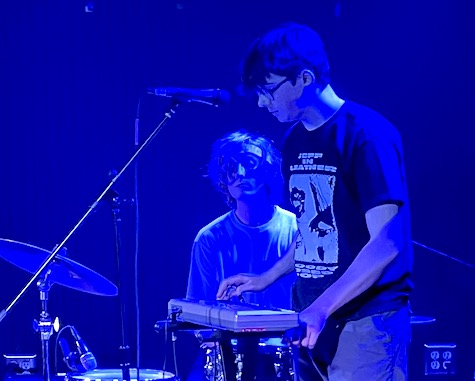 The evening began with a set by Pagan Athletes, the drum/keyboard duo of Nathan and Griffin Wolf. Nathan's stick work has never sounded better or more technically precise, while Griffin's keyboard/organ tones were as haunting and weird as ever. I noticed a few more yell vocals thrown in here and there, a welcome addition. The act's charm comes from being a duo – adding a bass or guitar would only clutter a unique sound that is prog-punk at its heart but has an improvisational feel, even though we all know every note, every sound is intricately calculated.
Sidenote: I walked by The Waiting Room at around 9:30 and Nathan Ma's set already was in full swing, so I kept on walking, having no interest in seeing Militarie Guns. What I heard from the sidewalk across the street (must have been "Blue Bird") sounded great.
* * *
Read Tim McMahan's blog daily at Lazy-i.com — an online music magazine that includes feature interviews, reviews and news. The focus is on the national indie music scene with a special emphasis on the best original bands in the Omaha area. Copyright © 2023 Tim McMahan. All rights reserved.
1 Comment »
Hey, Tim! Spot on assessment of Pagan Athletes. They have everything they need to be everything we need.

Just wanted to let you know BB Sledge Band is playin' a rock'n'roll show on Saturday, 3/11 at O'Leaver's. Kinda hopin' to get the word out or somethin' and cordially invite you because I think it'll be a good'n. – BB
RSS feed for comments on this post. TrackBack URL
Leave a comment