Before we get to the breaking news, first this review of Monday night's Mogwai show. I don't think this show sold out, but judging by the size of the crowd, it must have been pretty close. This wasn't the loudest show I've ever attended. That honor goes to a Bob Mould concert at The Ranch Bowl that was so painfully loud that it cut alleys into the sold-out crowd standing in front of the stacks. The Faint concert at The Waiting Room back in March 2007 comes in a close second. This one was right up there, though…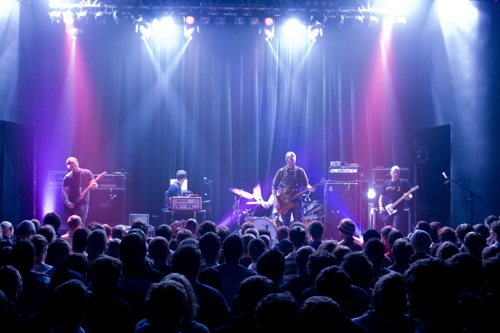 Photo by John Shartrand, used with permission.
Column 221: A Night of Sound
Mogwai brings it LOUD.

A lot of people have asked me how I manage to go to shows during the week and still maintain a "regular job" that commands that I be in the office by 8 a.m. The Slowdown's strict policy of starting shows at 9 p.m. sharp helps immensely, because it means I'll probably be home by midnight.

And that schedule was kept at the Mogwai concert this past Monday. Opening band, ironically named Women (no skirts in sight), hit the stage at the stroke of 9, even if I wasn't there to see it. I've heard their highly lauded debut album, and wasn't feeling it. Their live performance, however, made me shuffle through my iTunes library afterward, looking for the tracks.

The Calgary four were the most un-rockstar looking dudes I've ever seen — they looked just like you and me, like nobodies — no style visually at all, just a bunch of guys you'd find shopping at the Slowdown Mall. But musically, they were the reincarnation of the classic '80s-era 4AD band, with a minimalist, rhythmic style that was much more interesting than what I heard on their Jagjaguwar release.

Mogwai didn't do much to ratchet up the style quotient, except for their preponderance of shaved heads, most notably from short-guy frontman Stuart Braithwaite, who welcomed the crowd in his lovely Scottish brogue before proceeding to slowly, deliberately take away their ability to hear.

I've written about hearing protection before, so I'm not going to re-plow that old ground except to say: 1) I was happy I had my earplugs, and 2) They sell earplugs at Slowdown's bar for 50 cents (They used to have an earplug gumball machine, but someone smashed it).

But I digress. It was loud. It needed to be loud. Such is the style and ways of Mogwai, a band whose instrumental-only music creates tension through its quiet-LOUD-quiet dynamics.

In fact, that equation is the be-all and end-all of their compositions — start off each song with a quiet guitar melody, keyboard or soothing percussion line, and then slowly build-build-build as if climbing a mountain or having sex — or having sex while climbing a mountain — until they reach some sort of breathless orgasmic peak — usually at ear-bleeding wake-the-neighbors decibels — to slowly come back down in a post-coital glow, lying back in wait for the next mountain to conquer.

Like any good partner, they occasionally strayed from the standard deviation — once lulling the audience to comfortable passivity bathed in dark blue or ruby red stage lighting — only to shock with a wall of bristling noise accompanied by blinding STROBES. The strobes were the only elaborate piece of staging, and were used effectively to accent the high-noise action in a BOOM! Take that! sort of way.

OK, I admit that I did find it a bit repetitive, especially since every song was played at the exact same plodding pace — absolutely no variety in meter the entire night. But I suppose keeping the performance locked in a single gear was part of their shtick. And what they lacked in rhythmic variety they made up for in sheer majestic scope.

My plus-one for the evening texted me throughout the show from somewhere in the crowd, mostly complaining about the constant mid-tempo pace, with text messages like, "Hoping 4 godlike instead got plodlike."

I couldn't argue, but I still dug every minute of it. And so did the crowd, though at times it was hard to tell. From my usual "spot" in the front right corner along the wall by the fired doors just off of stage left, I watched the crowd. A skinny kid in a T-shirt — no more than 18 — stood up front and stared not up at the band, but downward, toward the front edge of the stage. Blank. Flat line with eyes wide open. What was he looking at? What was he seeing?

Meanwhile, between songs from in back of the audience a drunk woman slur-yelled "Yah-yah-yah- yah-yah" like a tipsy peacock. Over and over. She tried to get the rest of the crowd to join in, slurring "Come on, everybody!" before screaming another drunken mating call. On stage, the band tuned their guitars and smiled. "And I'm used to people not understanding me," Braithwaite said, sounding like a short, bald version of Scotty from Star Trek.

About three songs from the end I noticed that most of the kids standing in front of the stage — all young guys — weren't looking up. They stared forward like an army of sad killers. Or zombies. Lost, I guess, in the fog of sound.

Meanwhile, during the encore, a woman nearby cringed and covered her eyes, cowering against the STROBES and the NOISE, waiting for it all to end. First she would have to endure 10 minutes of noise created by Mogwai's arsenal of effects pedals that Braithwaite and one of his cohorts "played" while kneeling on stage, covered in a shower of lightning. As the drone continued to echo, he grabbed a couple empty Red Stripe bottles, stood up and waved to the crowd and was gone.

And I was home by midnight.
* * *
And now the news: Val Nelson who helps run Slowdown tells me that Cursive is headlining a free show with Azure Ray and Flowers Forever to be held in the Slowdown parking lot July 24. The 18+ concert is being held in conjunction with Mutual of Omaha's Wild About Omaha weekend. With the Conor Oberst Anchor Inn show on June 26, and a second even more interesting show at Anchor Inn rumored to be in the works, this is turning out to be a great year for outdoor entertainment.
* * *
Conor Oberst and the Mystic Valley Band's album, Outer South, released last week on Merge Records, came in at No. 40 in the latest Billboard charts, according to Mike Fratt of Homer's Music. The album nationally sold 14,361 physical units, while moving 4,823 digital copies — good enough for No. 12 on the Billboard digital charts. Fratt said only five records on the charts sold more than 50,000 copies last week.
–Got comments? Post 'em here.—
No Comments »
No comments yet.
RSS feed for comments on this post. TrackBack URL
Leave a comment