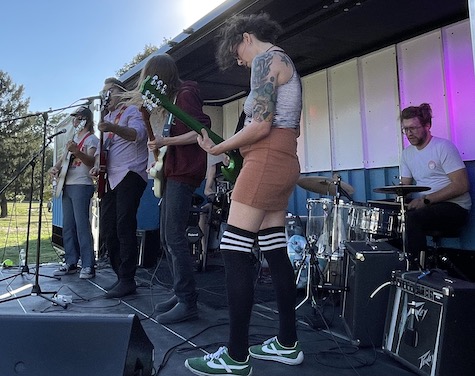 by Tim McMahan, Lazy-i.com
So, Outlandia this weekend. The preview is here. Weather should be awesome. Tix and other info at OutlandiaFestival.com.
So what else is happening this weekend?
Not much tonight and Saturday – but here's an early head's up for NEXT SATURDAY…
NEXT Saturday is Dundee Day, and part of the festivities include a parade that runs along Underwood Avenue from 10:30 to 11:45 a.m. What would a parade be without a marching band? But not just any marching band. In addition to some of Omaha's finest musicians, this marching band includes a number of indie music notables from bands that include Desaparecidos, Cursive, Flowers Forever, the list goes on and on.  Expect some surprises. 
Later that afternoon is the annual Dundee Night Street Party, which will be kicked off at 4 p.m. by Las Cruxes and capped off by Satchel Grande at 10:15 p.m. The full line-up is here.
Onward to THIS Sunday…
Down at The Slowdown Sunday night, The Menzingers return. The pop-punk/emo/indie band has made Omaha a regular tour stop throughout its career. They're on the road supporting their latest full-length, On the Possible Past, released last November on Epitaph. Also on the bill are Prince Daddy & the Hyena and Mercy Union. 8 p.m., $35.
Meanwhile, over at The Waiting Room, pop-metal/hair-metal band White Reaper headlines. The band started out as an indie-punk band that recorded for Polyvinyl and opened for acts like Twin Peaks and Together Pangea, but then got signed to Elektra, switched up their sound and became a sort of faux hair-metal band, or at least that's how their sound on their latest album, Asking for a Ride (2023, Elektra). Could be fun. No opener listed, $25. 8 p.m.
Also Sunday night, Minneapolis indie-punk all-female trio VIAL headlines at Reverb Lounge. Their latest is Loudmouth (2021, Get Better Records). Local heroes Social Cinema (Kill Vargas, Death Cow) opens at 8 p.m. $16.
And that's all I got. If I missed your show, put it in the comments section. If you're going to Outlandia, don't forget your sunblock. Have a great weekend!
* * *
Read Tim McMahan's blog daily at Lazy-i.com — an online music magazine that includes feature interviews, reviews and news. The focus is on the national indie music scene with a special emphasis on the best original bands in the Omaha area. Copyright © 2023 Tim McMahan. All rights reserved.