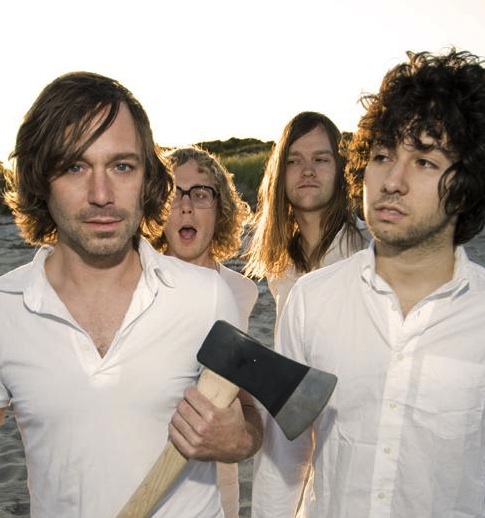 The Return of Matt Pond PA
The Brooklyln band keeps on keeping on…
by Tim McMahan
Seven years ago on a rainy Wednesday night indie band Matt Pond PA rolled into Omaha to play a show at Sokol Underground with Bitter Bitter Weeks and Lefty's Deceiver. Five people were there to see it. And that was the last time Matt Pond PA played in Omaha, until this coming Tuesday night.
Pond thinks things will go better this time. "There couldn't be less people there than at that other show," he said. "We have nothing but optimism."
He's optimistic for good reason. Pond is on the road touring with a new band supporting a new album, The Dark Leaves, released last month by Altitude Records. The album was recorded in an isolated cabin in Bearsville, New York, a tiny town near Woodstock, with his pal Chris Hansen, who played guitar, sang and handled the engineering chores. "It was just me and him sitting there, doing and undoing the album," Pond said.
That sense of freedom and space — and aloneness — surrounds the album's gorgeous, flowing pop on gently rocking songs like "Brooklyn Fawn" that glow with insight and soul from a musician who has continued to refine his craft for more than 10 years over seven full-length albums, always flying just beneath the radar.
Little has changed since that '03 concert.  "I'm probably at the same point in my career," Pond said via cell phone while driving back from the forest into NYC. "Things are probably simpler because we have an album coming out, and there's optimism and fear and all sorts of little things.
"The biggest change is that I'm not as tied to things as I was back then. I'm tied to my songs, but not tied to what critics say or what does or doesn't happen. It's a lot easier to let things go now. When you get knocked around a bunch, you stop feeling it. I love doing this, and if you love doing it, you can't get so worked up about details and people or reviews."
Pond sounded a bit surprised to still be working in the music business. "I probably didn't think I'd still be doing this back in '03," he said. "There's that pang for the supposed 'real life' that I've had since I was a kid — this idea that you're supposed to have a job. You imagine you'll have a stable career and some kind of family.  I never thought I'd be playing music, but it's better than being a doctor or lawyer or a professional. Now, even though it's not the most stable job or career, I can't imagine doing anything else."
Another reason for optimism was the reaction Pond received at this year's South by Southwest Festival in Austin. "I swore I'd never play (SXSW) again," he said, adding that the last time he was there was (again) back in '03. "I did two shows — one was for 15 people; the other the soundman was too drunk to lift his head off the soundboard — so one had no sound, the other had no people."
The only reason he did SXSW this year was because another band he plays in– the Wooden Birds — was scheduled to be there.  On the day of his performance, the venue — the Galaxy Room on Austin's 6th St. — was packed with a few hundred people (myself among them), all of whom looked as if they were greeting a long, lost friend. Pond, who looked like a bearded Jimmy Fallon, smiled from the stage. "People were singing along," he said. "It was fun."
It was a nice welcome after taking a couple years off from performing. "I'm excited to do this again," Pond said. "I love playing live. And there's more focus now on music rather than extracurricular people in the band."
Pond wasn't sure who would be playing with him when he returns to Omaha, other than Hansen and most likely Leslie Sisson of The Wooden Birds, who he said are now the core of his band. "You end up being closer to these people than you are with girlfriends," he said.
And despite The Dark Leaves only being out a month, work has already begun on the next Matt Pond PA album (The "PA" tag, by the way, is an homage to Philadelphia, Pennsylvania, even though Pond hasn't lived there since he moved to Brooklyn years ago). "We've recorded six songs for the next record," he said. "(Recording is) the one part of this process that I don't have a problem with. There will always be a good and bad part to this life, but that part is pretty pure to me."
Matt Pond PA plays with Bobby Long, Tuesday, May 11, at Slowdown, 729 No. 14th St. Showtime is 9 p.m. Admission is $12. For more information, visit theslowdown.com.