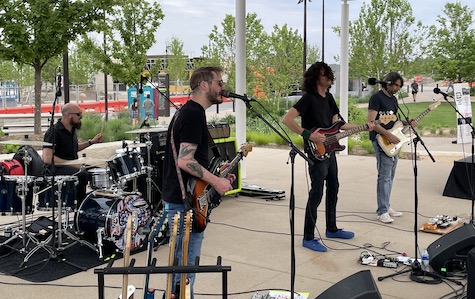 by Tim McMahan, Lazy-i.com
Here's what I know (or at least what I can tell you) about yesterday's big announcement that the Maha Music Festival will move to the Omaha Riverfront a.k.a. Heartland of America Park for its 2024 festival:
The newly designed park will have a humongous green lawn space able to comfortably handle a boost the event's estimated attendance to 20,000 over two days. That's nearly double what they did at last year's festival. The huge space will allow Maha to add a third stage opposite of the main and second stages, which will host local bands. I'm not sure how that will work, considering last night I could clearly hear Little Brazil playing their final song all the way at 14th and Dodge St. where my car was parked.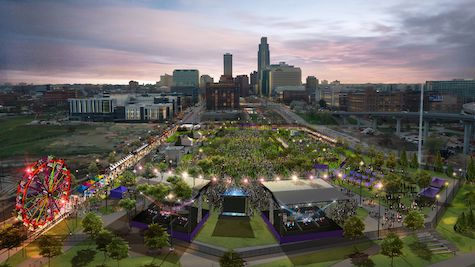 Anyway, to draw 20,000, Maha will have to book bands that pull arena-sized crowds. Will that mean a shift in Maha's booking philosophy, away from the indie style of music they built their reputation on? We'll see, but rumor has it Maha already has someone lined up for next year's Riverfront debut. 
I'm already seeing people complain online about parking downtown. No doubt Maha will have a plan in place to get you to the festival easily, but there's no question it'll be hard to beat the pure convenience of Stinson Park at Aksarben Village, where the festival has been held the past decade (and will be held for one final time again this year). For us mid-towners, the Stinson location was pretty awesome – heck, I rode my bike to Maha. That won't be an option next year.
But parking ain't no thing, compared to what the new location will potentially provide. Though for me, just like Steelhouse Omaha and The Astro, it all comes down to the booking… 
A gaggle of local muckety-mucks were on hand for yesterday's announcement, including representatives from the Mayor's office (wonder where she was?), MECA and BFF. And the biggest muckety-mucks of all — Little Brazil — played a full set from the make-shift performance space located on the edge of the new park (which won't be open until sometime later this summer).
Landon Hedges and the boys ripped through a tight set that featured selections from the most recent album as well as a couple oldies. Maybe it was the afternoon timeframe (and the lack of pre-concert imbibing) but Landon never sounded better vocally, hitting all those precious high notes for a crowd of around 70 stretched out in lawn chairs on the green next to the dog park. Yeah, it was loud, but the dogs didn't seem to mind. The set-up's tiny PA, however, began to crackle halfway through the set, unable to handle the sheer power of Little Brazil. 
. 0 0 0 .
Onward to the weekend, and it's packed for a holiday, except for tonight – which is a vast wasteland.
Tomorrow night (Saturday), singer/songwriter J.S. Ondara – or just Ondara, as he's known — headlines at Slowdown Jr. Born in Nairobi, legend has it he grew up listening to rock music on his sister's battery-powered radio, and cites Radiohead, Nirvana, Death Cab and Jeff Buckley as inspirations. His latest album, Spanish Villager No. 3, was released last year on Verve Forecast. To me, Ondara sounds like next-generation Tracy Chapman, right down to the quivering vocal style.  Check out MarQ Manner's interview with Ondara in The Reader, right here. Opening is Nashville roots singer/songwriter Kiely Connell. 8 p.m. $30. 
Also tomorrow night (Saturday), Omaha prog-rock masters Violenteer opens for Reno noise rock band Elephant Rifle at Reverb Lounge. Local Ponzi Scheme also is on this 3-band bill that starts at 8 p.m. and will run you $15.
Meanwhile, just down the street at The Sydney, Madison Wisconsin's Carrellee headlines. Her debut album, Scale of Dreams, was produced by Brett Bullion (Low, Polica). Also on the bill are Mr. Softheart. Specter Poetics opens at 9 p.m. $10. 
Finally, Sunday night, Omaha noise-punk band Leafblower opens for KC growlers Nerver. Omaha punkers Nowhere also are on the bill. 8 p.m., $12. 
And that's all I got. If I missed your show, put it in the comments section. Have a great weekend!
* * *
Read Tim McMahan's blog daily at Lazy-i.com — an online music magazine that includes feature interviews, reviews and news. The focus is on the national indie music scene with a special emphasis on the best original bands in the Omaha area. Copyright © 2023 Tim McMahan. All rights reserved.