by Tim McMahan, Lazy-i.com
Here are a few odds and ends of interest that have been cluttering up my in-box:
Who remembers what the first title was in Sub Pop's Singles Club back in 1988? Why it was none other than "Love Buzz," the debut single by a little ol' band that went by the name Nirvana. The Singles Club worked this way — for a subscription price you received one Sub Pop single per month by mail — awesome.  Sub Pop has done two more Singles Club series since then, the last one in 2008. Who knows if they'll ever do it again.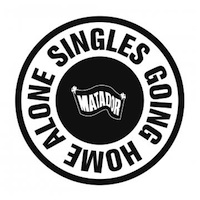 In the meantime, our old friends at Matador have launched their own singles club. Titled Singles Going Home Alone, the Matador club is offering six 7-inch singles to be distributed throughout 2012.  The first of the bi-monthly releases features Stephen Malkmus & The Jicks and L.A. Guns, with the former covering the latter's "Wheels Of Fire" and Tracii & Co. tackling "Gorgeous George" by The Jicks. Following that, releases are set to come from OBN III's (March) and The Men from New York City (May). Subscriptions are $45. That's quite a chunk of cash, but you also get a tote bag, 10% off the Matador store all year and a "secret surprise" (and BTW, copies of that limited-press Nirvana Singles Club offering are now fetching more than $2,500 on ebay). Check it out at Matador. Now when is Saddle Creek going to get off its tired ass and put together a Singles Club?
* * *
Speaking of Matador and end-of-year lists, the label recently published its contributors' annual end-of-year lists right here. I usually skip down to the end to see what obscure shit that label guy Gerard Cosloy is listening to these days. Of note: Digital Leather's "Mind Eraser" made Steve Glauber of Matador Direct's list of favorite tunes in 2011.
* * *
Speaking of Digital Leather, their song "Young Doctors in Love" is featured at SPIN.com's "First Spin" page, where you can download it for free. The song is from DL's forthcoming LP Modern Problems, slated for release on FDH Records Feb. 14. It'll also be included on another year-end comp that will be announced in the coming days (can you guess who's?)…
* * *
Speaking of album previews, our old Eagle Seagull pal Eli Mardock is offering an online preview of his upcoming album, Everything Happens For The First Time, right here. No street date or label info was passed along with this bit of news other than we'll be seeing it sometime in 2012.
* * *
Finally, kind of interesting is the return of D.C. post-punk band Q & Not U.  John Davis and Chris Richards recently performed together and intend "to keep working on songs and, hopefully, playing more shows," according to this story in the Washington City Paper. Mynabirds fans may recall that Davis was half of Georgie James with Laura Burhenn.
* * *
And so we enter the Christmas weekend where as per usual, there's not much going on. You know, Christmas is for families, and all that jive. That said, tonight there's a "Holiday Hootenanny" going on at The Sandbox featuring a plethora of rockabilly bands, including Snake Island, St. Christopher, Th' Empires, Rumble Seat Riot and Gerald Lee Jr. or The Filter Kings. $10, all ages, show starts at 7.
Also tonight, Two Drag Club and Witness Tree are playing at The Barley Street Tavern. 9:30, probably $5. And Satchel Grande, is playing again tonight at The Waiting Room, where they're practically becoming the house band (and why not?). $7, 9 p.m. Finally, Ragged Company is playing a set this afternoon down at House of Loom with cellist David Downing. 5 p.m. and free.
And that's it for the weekend. Here's hoping you get a brand new guitar for Christmas.
* * *
Read Tim McMahan's blog daily at Lazy-i.com — an online music magazine that includes feature interviews, reviews and news. The focus is on the national indie music scene with a special emphasis on the best original bands in the Omaha area. Copyright © 2011 Tim McMahan. All rights reserved.