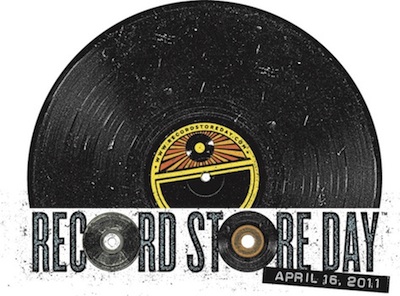 by Tim McMahan, Lazy-i.com
Tomorrow is the day all you vinyl lovers have been waiting for – Record Store Day! You can read my recap of what Homer's has in store for this celebration of music right here. This cold April rain should end by tomorrow morning, which means you will be high and dry while waiting in line to get first dibs on the really exclusive, limited-edition stuff. In fact, the Homer's Orchard Plaza store will open a half-hour early tomorrow at 9:30 a.m., giving you time run your shaky hands through their vinyl bins before hysterically driving downtown to the Old Market store opening.
And don't forget The Antiquarium and Drastic Plastic also will have a selection of RSD vinyl on sale tomorrow. RSD is kind of like a treasure hunt — you don't know exactly what you're going to find, and product will vary from store to store, though I know Antiquarium's selection will likely lean heavily toward major indie labels like Matador, Sub Pop and Merge.
To help commemorate the occasion, Homer's is featuring a few highly sought-after DJ's tomorrow afternoon at the Old Market Store. DJ Kevin "King" Coffey will be behind the turntable at noon, followed by Gunkmeister DJ Kobrakyle at 1 p.m. while yours truly will take the rear at 3 p.m., long after the RSD excitement has worn off. As an homage to High Fidelity, perhaps I'll play "Dry the Rain" by the Beta Band… more likely you'll hear a collection of crusty old vinyl and new mp3s. I still haven't figured it out yet.
* * *
Some impressions of last night's Bright Eyes' performance of "Beginner's Mind" (above) on The Tonight Show with Jay Leno:
— A trench coat in LA? A smart fashion statement, yes. Teresa's comment: "He sure has big feet." Indeed he does, and we all know what that means.
— Who was the guy behind the drum kit? I thought Clark Baechle of The Faint was playing drums for this go 'round of Bright Eyes. Whoever it was, he sounded terrific. In fact, the drums dominated last night.
— I wonder if everyone could hear themselves in the studio, because there were a few vocal bloopers which may or may not have been intentional.
— Leno's comment as he went to shake Oberst's hand after the song ended: "I missed you on the bus." Not sure what that meant because I DVR'd the show so to fast-forward past Leno's natterings.
— Overall, an interesting BE performance that rates up there with the rest of the band's and Oberst's network appearances, which you can see right here at twentyfourbit.com.
* * *
There are outstanding shows every night this weekend.
Tonight at The Slowdown is what I'm calling the "Fantastic Four" showcase (which you read about here yesterday) featuring (in this order) Touch People, InDreama, Icky Blossoms and headliner Conduits. Get there early for Touch People (the show is slated to begin at 9 p.m.). And make sure you get a copy of the duo single as sort of a pre-Record Store Day vinyl purchases. Judging by the listing at theslowdown.com, this appears to be a "big room" show. Tix are $7.
For you Lincolnites, tonight is the second night of Omaha Invasion. Check out the schedule at the bottom of this blog entry.
Meanwhile, Brad Hoshaw is doing a set tonight at O'Leaver's with Ashley Raines and the New West Revue. $5, 9:30 p.m.
Speaking of O'Leaver's, tomorrow night the "bar that time forgot" is hosting a benefit show for Love Drunk Studio, the red-hot video production company that began taking the scene by storm late last year. The Love Drunk team is headed on the road the first couple weeks of May for a tour of central and eastern United States, where they'll be creating videos for bands they meet. Details of the excursion are right here. Help support the cause by going to tomorrow night's show, which features The Photo Atlas, The Answer Team, Masses and Ketchup and Mustard Gas. $5, 9:30 p.m.
Also tomorrow night, Beat Seekers headline a show at The Barley Street with Blue Bird, and Travelling Mercies. $5, 9 p.m.
Finally, Sunday, it's the big Decemberists show at The Holland. Tix are still available for $35 right here at ticketomaha.com. I suspect it'll be one for the record books. Opening is Justin Townes Earle. Show starts at 8 p.m.
* * *
Read Tim McMahan's blog daily at Lazy-i.com — an online music magazine that includes feature interviews, reviews and news. The focus is on the national indie music scene with a special emphasis on the best original bands in the Omaha area. Copyright © 2011 Tim McMahan. All rights reserved.