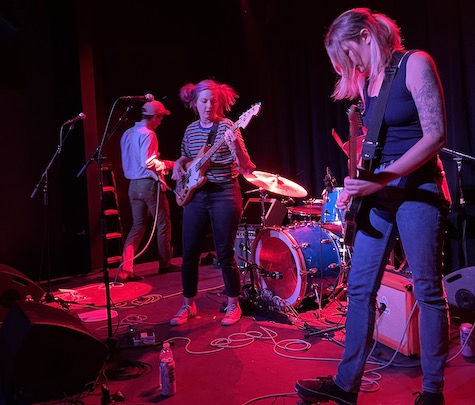 by Tim McMahan, Lazy-i.com
First off, Happy St. Patrick's Day.
When Benson first began to emerge as one of city's nightlife hubs in the late 2000s, my dream was that the district's businesses would eventually pull together to create the ultimate St. Patrick's Day experience, wherein those of Irish descent (and otherwise) could stumble down Maple Street throughout the day/afternoon/morning drinking Guinness and/or Irish whiskey, enjoying traditional Irish music (or otherwise) from one bar to the next. Now, 16 or so years later, the Benson District still doesn't jointly celebrate St. Patrick's Day — one of the best bar days of the year. Ah well…
Instead, a handful of bars throughout the city do their own thing, with The Dubliner still being the best place to celebrate this day dedicated to day drinking, Irish lore and March Madness. The only thing missing is The Turfmen. Wherever you end up (even if it's at home) please enjoy responsibly, or whatever.
. 0 0 0 .
Weekend-wise, live music resumes on Saturday where The Waiting Room gets into St. Patrick's Day a day late with a rock show featuring Lincoln Celtic rockers The Killigans. They're as close as you're going to get to Flogging Molly in these parts (other than Flogging Molly, who played The Admiral a week ago). Adding to the Midwestern brogue is Des Moines' The Vandon Arms. Joining them is the not-so-Celtic-sounding Filter Kings. Also on the bill is Aage Birch. 8 p.m., $18.
Sunday night, Philly indie band Grocer (who I wrote about here) returns to Reverb Lounge. Joining them are rising stars Bad Self Portraits, who have been playing out a ton lately – here's your chance to see them again live in person. Estrogen Projection opens the show at 8 p.m. $10. 
And that's all I got. If I missed your show, put it in the comments section. Have a great weekend. 
* * *
Read Tim McMahan's blog daily at Lazy-i.com — an online music magazine that includes feature interviews, reviews and news. The focus is on the national indie music scene with a special emphasis on the best original bands in the Omaha area. Copyright © 2023 Tim McMahan. All rights reserved.