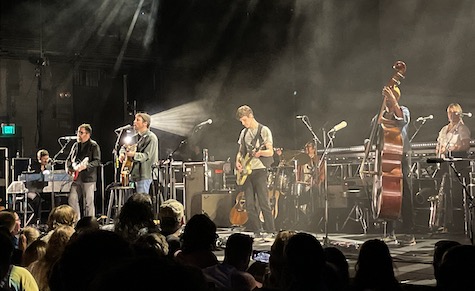 Fleet Foxes at Steelhouse Omaha, July 2, 2023.
by Tim McMahan, Lazy-i.com
I'm unsure where Fleet Foxes fits on the spectrum of today's popular music. They are indie for sure, releasing records on Seattle super-indie label, Sub Pop Records, and their music is anything but radio friendly, or is it?
Standing in the shoulder-to-shoulder crowd at Steelhouse Omaha Sunday night as the band rolled into their fourth song, the mid-tempo pumper "Can I Believe You," I was reminded if only for a moment of '70s feel-good FM-favorite Chicago, thanks to the ensemble's mini-brass section.
A trumpet, trombone and sax player, all of whom did double duty providing harmony vocals or playing assorted other instruments, was part of an 8-person ensemble that was far from crowded on Steelhouse's enormous stage. The sax player was particularly versatile, swapping out tenor sax with stand-up bass, flute and tambourine.
At other moments, I was reminded of CSNY, Cat Stevens and, yeah, Air Supply. Hey, I love two out of three of those bands. The evening's high point was a pretty rendition of one of Fleet Foxes' most familiar songs, "White Winter Hymnal" from their 2008 self-titled debut, sounding like an indie barber shop quartet building layer upon layer of glimmering harmonies.
The performance was a rote set of mostly older music. Fleet Foxes have done just about everything they can with this style of Americana-inflected indie folk and could keep riding the wave to larger and larger audiences I suppose, though I have to believe it's going to get boring for them after awhile. They've already rereleased their debut in a sort of omnibus collection with an early EP and B-sides, and frontman Robin Pecknold released yet another version of these old songs on A Very Lonely Solstice. Where they're headed next is anyone's guess…
A few side notes…
– I'm forever astounded by the need of some concertgoers to carry on full-blown yell-conversations during concerts like this one. Fleet Foxes' music is somewhat delicate, and having three women yell to each other about their day while standing right up by the stage is the height of self-centeredness. And is just plain weird. Look around, folks. People are trying to enjoy a concert that cost them $$$. Take your convo to the prison-yard patio.
– Speaking of which, after fielding complaints from patrons, Steelhouse security is now segregating smokers out in the prison yard patio. Smokeheads were pushed all the way to the far fence by an imposing dude with a walkie talkie. He told me Steelhouse is looking for ways to better utilize the enormous outdoor space. Maybe more tables and chairs; maybe use it for wedding receptions (!).
– One beer and one vodka lemonade. Cost w/tax and tip: $41.48. These are Broadway bar prices, folks, which I guess Steelhouse can get away with in their early days, but if they want to continue to attract large crowds, they're going to have to offer more reasonably priced drink options or drop their prices (highly unlikely).
. 0 0 0 .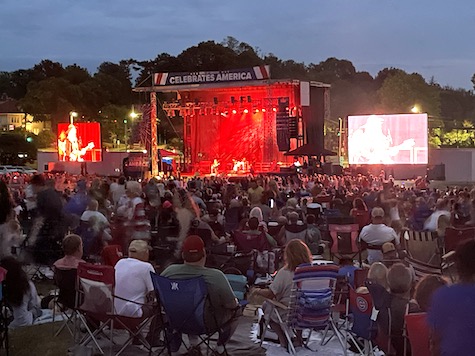 Melissa Etheridge tears it up at Memorial Park June 30, 2023.
Speaking of cheap nights of music, I strolled up to Memorial Park Friday night to catch the last half hour of Melissa Etheridge and was pleasantly surprised at how good it sounded – like a real rock concert. Nice job, audio people (whoever you are); it must be a real challenge to make a large field situated next to a highway sound like a concert hall.
Etheridge was in good voice, no surprise there, as she ended the evening with her "hits" from 30 years ago, though instead of closing out on a grand high note, she drew out a song with a drum solo(?) followed by an extended end-play that just sort of petered out. Kind of weird, especially with a crowd salivating for their fireworks to begin…
. 0 0 0 .
Tonight at The Blind Spot, Bar None recording artist, San Francisco's Pardoner, who All Music (accurately) describes as "Noisy slacker pop quartet that marries angular heaviness with indie rock catchiness." On their just released album, Peace Loving People (Bar None), they remind me a lot of early Parquet Courts mashed with early low-fi Pavement.
The Blind Spot is a new all-ages venue in / near downtown Omaha around where The Cog Factory used to be. The organizer asks that you DM Morgan Goldsberry for the address, though the address is clearly stated on the Nebraska DIY Facebook post (click through the post's images to event "Vintage Clothes and More!!!," where you'll find the address).
Hey folks, I realize DIY is all about keeping things on the down-low to control your audience, but you're a venue now. Just print the freakin' address on your flyers.
Based on past and future bookings, The Blind Spot will be the home for hardcore and metal shows. Such is life. The fact that they've let this indie show sneak in is a positive sign. We need another place for young touring indie bands to perform besides Reverb, which these days is only booking breadcrumbs. Tonight's show is a four-band bill with Fire Sign, Glow and Western Hairus, and kicks off at 8 p.m. $10.
* * *
Read Tim McMahan's blog daily at Lazy-i.com — an online music magazine that includes feature interviews, reviews and news. The focus is on the national indie music scene with a special emphasis on the best original bands in the Omaha area. Copyright © 2023 Tim McMahan. All rights reserved.