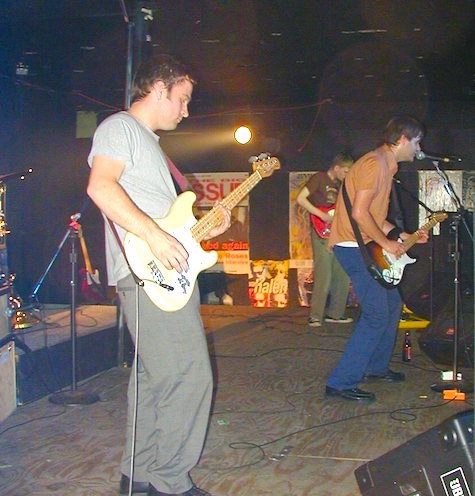 by Tim McMahan, Lazy-i.com
So far it's been a remarkably moribund year for touring indie rock shows in Omaha and it's looking like that moribund-ity will only be continuing. There were no shows last weekend. There are no shows this weekend. If you're an indie music fan, you're probably starting to feel desperate. 
That said, there was a parade of show announcements yesterday that highlight Omaha's sparkling new mega venues. Wilco will play at The Astro Oct. 23 with Nina Nastasia. In fact The Astro – the new indoor/outdoor amphitheater under construction in La Vista  – announced their "opening party" Sept. 7 will be headlined by funk band Here Come the Mummies. And, The Astro will also host the return of 311 Sept. 29. 
The Astro's already announced shows by Dropkick Murphys (Oct. 5), American Idol performers Ruben Studdard and Clay Aiken (Oct. 28), Kenny Wayne Shepherd (Sept. 24), Beth Hart (Sept. 16), Ancient Aliens Live (Sept. 21), Goo Goo Dolls (Sept. 23), Gaslight Anthem (Sept. 30) and what appears to be their inaugural show, Rick Springfield and The Hooters (Aug. 30). 
That's a hugs spate of shows that would seem to appeal to a very broad audience – which is what a facility of this size demands.
Meanwhile, Astro's main competition – Steelhouse Omaha – had a few announcements of their own yesterday, not the least of which was alt-rock band Queens of the Stone Age with opener Viagra Boys Sept. 19, along with two days/nights of bachelorette party bro comedian Matt Rife for seated shows Nov. 4 and 5.
There were no touring indie rock show announcements yesterday. Well, except one.
San Francisco post-punk band Pardoner saw the release of their debut album, Uncontrollable Salvation, on tiny indie label Father/Daughter Records in 2017 before being signed to classic indie label Bar / None Records, where they've released 2021's Came Down Different. Their most recent release is a a three-song single, "Rosemary's Gone," that dropped yesterday. Their new album, Peace Loving People, drops on Bar/None June 23.
The band has been compared to acts ranging from Polvo to Dinosaur Jr. They kind of remind me of early Pavement, Pile, early Parquet Courts – you get the drift, gritty DIY-style post-punk with a heart of gold.
Anyway, yesterday I received an email from their publicist at Grandstand saying Pardoner is playing in Omaha as part of a tour that includes gigs at Empty Bottle, Replay Lounge, Hi Dive, Turf Club, the usual list of national indie rock clubs. The Omaha gig will be at American Legion July 3.
OK, there are a number of American Legion Halls, which one? I asked the publicist, who said the show has now been moved to The Blindspot, "a new all ages diy spot" located around 20th and St. Mary's. A quick Google Maps search indicates that this is probably a house show, but the publicist wasn't sure as he hadn't booked the tour.
So, maybe the show's happening. I've seen no other info about it, never heard of The Blind Spot, don't know who's actually putting it on, etc. And it got me thinking: Is this how it's going to be from now on? This is the kind of band that a few years ago would be playing a 1% venue or Slowdown Jr. or The Brothers or O'Leaver's or somewhere you and I recognize.
This explosion in 700+ capacity venues is great for Omaha and fans of middle-of-the-road alt rock and/or bands whose heyday was two decades ago, but for those of us who love young, up-and-coming indie acts — the kind of acts that Omaha's music scene thrived on in the early 2000s up 'til the pandemic — things ain't looking so good. 
I have no idea if Pardoner's booker (who I'm trying to get in touch with) offered this show to any of the local show promoters, or if s/he even knows who those promoters are these days. But I'm starting to wonder if Omaha is becoming a blind spot (pun intended) for touring indie acts like Pardoner.  Time will tell, but a glance at the local show calendars is not terribly hopeful.
. 0 0 0 .
One of those young up-and-coming bands that played Omaha countless times in the early 2000s was Death Cab for Cutie. It seems like they were gigging down at Sokol Underground a couple times a year to crowds of fewer than 200 when their first albums were being released on Barsuk Records (We Have the Facts… is still a high water mark).
Welp, Death Cab is back and they're playing a long sold-out gig at The  Admiral tonight. If the show follows the path of last night's gig at Riverside Theater in Milwaukee (setlist here), expect a 20-song collection of tunes that span their entire career but is heavy on songs from their most recent albums. Lomelda opens at 8 p.m. and like I said, it's SOLD OUT.
* * *
Read Tim McMahan's blog daily at Lazy-i.com — an online music magazine that includes feature interviews, reviews and news. The focus is on the national indie music scene with a special emphasis on the best original bands in the Omaha area. Copyright © 2023 Tim McMahan. All rights reserved.
No Comments »
No comments yet.
RSS feed for comments on this post. TrackBack URL
Leave a comment