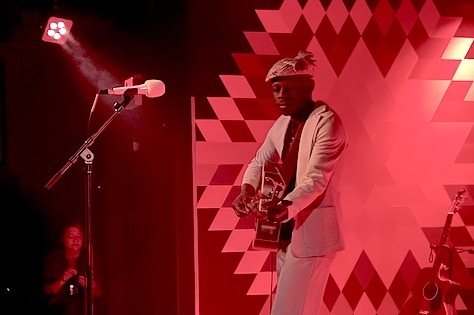 by Tim McMahan, Lazy-i.com
The crowd last Saturday night for Ondara at Slowdown Jr. was unusual in that almost all of the mostly older folks were seated at high-top tables that filled the room. I don't remember ever seeing a set-up like that at Slowdown. Opener Kiely Connell was finishing her set when I walked in and noticed not a soul standing in front of the stage. It felt like a formal jazz lounge.
Before he took the stage, I stood back along the edge toward the door that leads to the patio, having spent the between-set time sitting alone outside. Ondara stood in the make-shift "backstage" area behind the curtain off of stage left, not quite pacing next to the pool table, but looking down as he quietly sang to himself in a sort of pre-show voice-warmup ritual. Then he stood up straight and strolled onto the stage to warm applause.
It's been a long time since I've heard anyone with a voice as strong and sure as Ondara's. He started his set with an a-cappella number that had the crowd mesmerized. And then he methodically went through a set list of a little over a dozen songs, all accompanied by his simple acoustic guitar, all reminding me of early Tracy Chapman — both in melody and vocal style — and it just so happens that I adore Tracy Chapman.
The difference between Ondara and Chapman is in his lack of variety – most of his songs have a similar mid-tempo four-chord style – and his lyrics that, while personal, are nowhere near as gut-wrenchingly confessional as Chapman's early material, which was revelatory for its time. That said, his songs are no less depressing, introducing them with "Here's another sad one" and closing out the evening by saying "Time goes by quickly when you're sad," though he looked anything but sad as he rifled through the set list, explaining how some of the songs came along. This one is a lock-down song; this one is about aliens, and so on. 
Really beautiful stuff and, like I said, sung with a strong, confident voice so unlike the style of singing I'm accustomed to hearing at indie shows where vocals hold a distant third behind the lyrics and instrumentation, almost as if an after-thought ("hey, someone has to sing these lines."). 
Not Ondara. His voice alone is a treasure. To underscore this, the first of his three-song encore was another a-cappella number, sung perfectly, unwavering, again mesmerizing the strange, seated crowd. 
. 0 0 0 .
In the early 2000, one of the staple indie acts that toured throughout the country and into Omaha was Say Hi to Your Mom, a one-man act consisting of singer/songwriter Eric Elbogen. We used to call his kind of records "bedroom recordings" because the artist typically recorded the albums themselves on computer. playing all the parts. Thus was how Elbogen did it for his first album, 2002's Discosadness, and for many that would be released over the next 20 years, some on the PNW label Barsuk Records, whose massive roster also included Mates of State, Death Cab for Cutie, Rilo Kiley, Starlight Mints, Viva Voce, Ra Ra Riot and a ton more of bands I love. 
Sometime over the course of that 20 years, Say Hi to Your Mom became just Say Hi. I guess Elbogen outgrew that earlier name. And now you'll have a chance to see Say Hi yourself, as Elbogen brings his one-man show to a home in Dundee this Wednesday as part of his Undertow Tour – a tour played entirely in people's homes. So where is the actual location? All I know is that it's somewhere in Dundee and that you'll be notified when you buy your ticket, which is $25 and available for purchase online at this website. Don't worry, it's probably a super nice place. Hurry, there are only 18 tickets left as of this writing, and Say Hi shows have a way of selling out. Starts at 8 p.m. 
* * *
Read Tim McMahan's blog daily at Lazy-i.com — an online music magazine that includes feature interviews, reviews and news. The focus is on the national indie music scene with a special emphasis on the best original bands in the Omaha area. Copyright © 2023 Tim McMahan. All rights reserved.
No Comments »
No comments yet.
RSS feed for comments on this post. TrackBack URL
Leave a comment