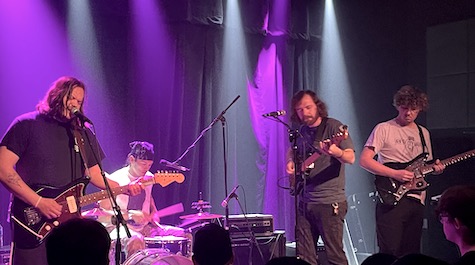 by TIm McMahan, Lazy-i.com
Way back in 2016, I went to a show at the now long-defunct Milk Run featuring a Sub Pop band called Arbor Labor Union. Milk Run was a venue located around 20-something and Leavenworth that was the size of a large walk-in closet. Despite its size, they put on a number of interesting shows in their tiny lifetime. 
I left that show back then with a copy of Arbor Labor Union's Sub Pop debut and a premonition that they could maybe one day be huge, and I could say I saw them play first at the closet-sized Milk Run.
Well, seven years later, Arbor Labor Union is no longer on Sub Pop, but still exists (in fact, they released a new album in January on Sophomore Lounge Records), but they're not the huge hit I thought they could be.
So, here we are in 2023 and along comes Deeper, who played last night at Reverb Lounge. The band recently released a single on Sub Pop – their first with the label — after receiving accolades from Pitchfork about their previous album released on Fire Records. I hadn't heard of them before this show, but, hey, they're on Sub Pop, so… Any time any Omaha club hosts a traveling indie band that's on a recognizable, nationally distributed indie label, I'm going to try my darnedest to catch their show.
Deeper was musically everything I'd hoped they'd be – a solid post-punk band clearly influenced by Joy Division / New Order with a modern, chiming guitar sound in line with an act like Preoccupations, which they've been compared to. I was also reminded of early French Kiss guitar bands and acts from my youth, like Manishevitz.
Frontman/guitarist Nic Gohl has a throaty vocal delivery that sort of sounds like David Byrne during his weirder moments, barking out lyrics that, unfortunately unlike Byrne (who is a great enunciator), were impossible to understand. The basic formula for most songs was drummer Shiraz Bhatti creating a throbbing beat to be joined in with a groovy bassline from Drew McBride, a repeated acidic guitar riff by Mike Clawson and then in comes Gohl with his own guitar part and his distinctive bark. As the songs went on, they locked into a hypnotic groove, with Clawson occasionally adding a New Order-ish synth line.
Very cool stuff, but they're one of those "stand up there and play" bands, which was enough for the 50 or so in the very young crowd (likely there to see the openers and sticking around for the headliners). Arbor Labor Union's performance back in 2016 was pretty much the same – stand up and play – and that's fine because like Deeper, their music, played with extreme precision, carried the day. 
Still, I have to wonder if I just saw a band on the verge of becoming huge or another Arbor Labor Union, who will be around in seven years, but on a different label doing different things somewhere far away from Omaha. 
* * *
Read Tim McMahan's blog daily at Lazy-i.com — an online music magazine that includes feature interviews, reviews and news. The focus is on the national indie music scene with a special emphasis on the best original bands in the Omaha area. Copyright © 2023 Tim McMahan. All rights reserved.
No Comments »
No comments yet.
RSS feed for comments on this post. TrackBack URL
Leave a comment