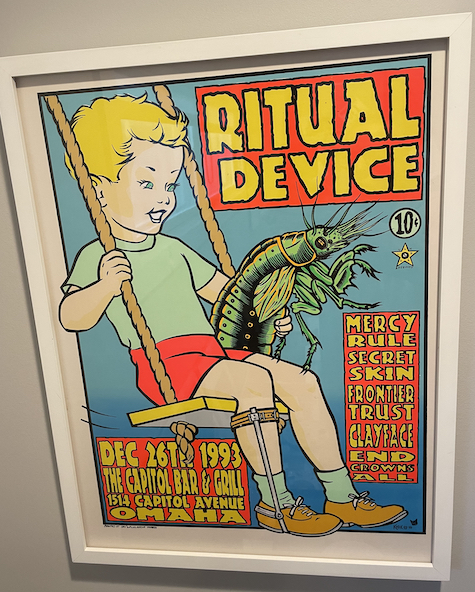 by Tim McMahan, Lazy-i.com
Frank Kozik, who it was announced yesterday passed away last Saturday at the age of 61, was the seminal concert poster artist who captured an era with his colorful style. I only know him through his work, which includes a poster that's in a lot of Omaha practice spaces, music rooms and (in my case) home offices. 
Tim Moss of the band Ritual Device gave me the above Kozik-designed poster after I interviewed his band at his mid-town home located around 48th St. in Dundee in support of the show it promoted. Listed on the poster are many of the bands that defined that era in Nebraska music, which would be so influential in the coming years. What a show that was. What a poster.
Goodbye, Frank, and thanks for the fluorescent memories.
. 0 0 0 .
Yesterday Bright Eyes announced the third wave of releases as part of their ongoing "Companion" project. Cassadaga, The People's Key and Noise Floor (Rarities 1998-2005) will be reissued by Dead Oceans on June 16. In conjunction with each rerelease will be the release of a Companion EP with new recordings. Each companion contains six or seven songs that include new versions of songs on the source album as well as covers, like the one below of Prince's "When You Were Mine," and artist contributions from Johanna and Klara Söderberg of First Aid Kit, Gillian Welch and Alynda Segarra of Hurray for the Riff Raff. Preorder here.
For me, Cassadaga, released in 2007 by Saddle Creek Records, was the last seminal Bright Eyes album and stands right up there among their best, while People's Key, released in 2011, would end up being the last BE release on Saddle Creek. The band continues to tour supporting these rereleases and their last original LP, Down in the Weeds Where the World Once Was, (2020, Dead Ocean). 
. 0 0 0 .
Tonight at Reverb Lounge Chicago band Deeper headlines. The band recently signed to Sub Pop, who released their debut single on the label, "Sub," last month. Joining them tonight are two Omaha up-and-comers, Bad Self Portraits and Pagan Athletes. Not bad for a Wednesday night. $15, 8 p.m. 
* * *
Read Tim McMahan's blog daily at Lazy-i.com — an online music magazine that includes feature interviews, reviews and news. The focus is on the national indie music scene with a special emphasis on the best original bands in the Omaha area. Copyright © 2023 Tim McMahan. All rights reserved.
No Comments »
No comments yet.
RSS feed for comments on this post. TrackBack URL
Leave a comment