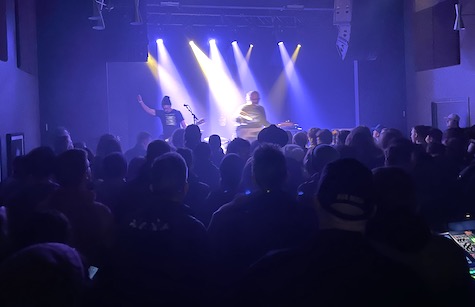 by Tim McMahan, Lazy-i.com
If it looks packed in the above picture it's because it was. Friday night's Bad Bad Men/Cat Piss show at Reverb Lounge eventually sold out, though it wasn't a sell out when I got there at around 9:30 after leaving a successful soft launch of the Ming Toy Gallery (thanks to all who dropped in).
I stepped out for about 10 minutes and when I returned at 10 p.m. Bad Bad Men had launched a full-scale rock 'n' roll attack. The Wolf/Siebken/Hug power trio was blazing, and the closest I could get to the stage was where I took that snappy from behind the soundboard.
My favorite moment was a song I'm guessing is called "Better Get Out" that ingrains a touch of hayseed grit in the band's usual punk stance. Frontman/guitarist/vocalist John Wolf's guttural vox delivery is in character of a bad, bad man who likely woke up in a filthy unmade bed surrounded by a case of empty Schlitz cans that litter the floor of the camper topper he lives in parked on an unpaved alley somewhere along La Platte Rd. The song pumped angrily atop the Hug/Siebken rhythm section before ending with a classic Wolf guitar solo.
By the time Wolf choreographed the belly-to-butt crowd in a flipping-the-bird pose to Mr. Hug, I was turning a deeper shade of red thanks to being overdressed in a thermal turtleneck and parka. Alas, I could take no more, and was told that by the time Cat Piss hit the stage the room was at capacity (as if it wasn't before). Rowdy fun.
. 0 0 0 .
It's another bleak week for shows, with virtually nothing interesting booked through the weekend. I guess all the bands will be in Lincoln next weekend as the 18th annual Lincoln Exposed festival gets under way. It's a loaded line-up of all-local acts playing at five Lincoln clubs Thursday through Saturday night. The full line-up is here. Tickets are mere $25 for an all-access pass or you can buy individual day passes as well. The weather should be friendly to this one, so plan early. Wouldn't it be great if they could pick this whole thing up and put it Benson for a weekend?
* * *
Read Tim McMahan's blog daily at Lazy-i.com — an online music magazine that includes feature interviews, reviews and news. The focus is on the national indie music scene with a special emphasis on the best original bands in the Omaha area. Copyright © 2023 Tim McMahan. All rights reserved.
No Comments »
No comments yet.
RSS feed for comments on this post. TrackBack URL
Leave a comment