by Tim McMahan, Lazy-i.com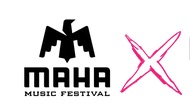 The folks at the Maha Music Festival today announced the schedule for its Aug. 17-18 Festival at Stinson Park in Aksarben Village.
The Friday night gig — a first for Maha, which will be celebrating its 10-year anniversary — is the softer (and cheaper — $35 GA) of the two nights, and starts at 6 p.m.
6 p.m. – Clarence Tilton
6:30 – State Disco
7:20 – Hurray for the Riff Raff
8:15 – Benjamin Booker
9:10 – ZZ Ward
10:30 – TV on the Radio
The Saturday schedule is stacked, and starts at 12:30 p.m. and costs $70 for GA tix.
12:30 p.m. – The Dilla Kids
1:15 – David Nance Band
2 – U.S. Girls
3 – Mesonjixx + Omaha Girls Rock
4:15 – Hop Along
5:30 – Ravyn Lenae
6:30 – Tune-Yards
7:45 – The Kills
9 – Father John Misty
10:30 – Weezer
You can buy a two-day festival pass for $95 and save $10. Prices go up by about $10 per ticket DOS. If you buy your pass by midnight Friday you'll be entered into a drawing for a free VIP upgrade (we're talking free pizza and air conditioned potties — what more could you ask for?).
* * *
Dereck Higgins' monthly residency continues tonight at The Down Under Lounge. Higgins will be playing songs from his just-released album The World Is Burning. Joining him is singer/songwriter Todd Grant, formerly of the band Compost.
For some background on Grant, here's a 2005 interview/feature/column about the man behind the 1994 album Strangled Soul. Needless to say, a lot has happened to Grant since that column was published.
The show starts at 9:30 p.m., and is free.
* * *
Read Tim McMahan's blog daily at Lazy-i.com — an online music magazine that includes feature interviews, reviews and news. The focus is on the national indie music scene with a special emphasis on the best original bands in the Omaha area. Copyright © 2018 Tim McMahan. All rights reserved.
2 Comments »
Actually, Maha is August 17-18.

Comment by David Leibowitz — July 19, 2018 @ 3:01 pm

Thanks Dave. Change made.

Comment by tim-mcmahan — July 19, 2018 @ 3:49 pm
RSS feed for comments on this post. TrackBack URL
Leave a comment