by Tim McMahan, Lazy-i.com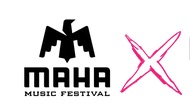 So here's the deal: The folks who put on the Maha Music Festival raised the bar insurmountably high with last year's line-up, which exceeded my expectations. It was so good, I was left scratching my head as to how they could possibly beat it for their big 10th anniversary fest.
I mean, they'd have to pull out all the stops with massive names like Arcade Fire, LCD Soundsystem, Beck, Tame Impala, Courtney Barnett, Kendrick Lamar, The Breeders, Superchunk — the biggest and best of indie that are still making important new music today.
If they could snag just a couple of the above names they could at least match 2017's stellar line-up.
Well, yesterday the folks at Maha announced the 2018 line-up. But before they did, they made a "big announcement" a few weeks earlier concerning their 10th Anniversary — that the fest is expanding to two days. Ambitious, no doubt. Their other big news — their merger with Big Omaha — was a big dud, and sounded more like an albatross had been hung around their necks.
In the face of all that, this year's line-up sounds sort of like an afterthought. The hot band on the ticket is TV on the Radio, a beloved legacy act that hasn't released in album in four years. A lot of people are pumped and I'm hearing the band will be the Friday night headliner. Personally, TVOTR has never been my cup of tea, but I get the excitement from the fans — a lot of folks point to 2008's Dear Science as one of their all-time favorite records.
The Saturday night headliner is Weezer, a band that headlined a night of the 80/35 Festival a couple years ago. Weezer has a huge fan base, thanks to their debut album, which came out 24 years ago, a solid follow-up with Pinkerton in '96, followed by their green album in '01. After that, most people lost track of the band, but it doesn't matter as long as they keep playing "Undone – The Sweater Song" on tour. Fun fact: Weezer released an album last year called Pacific Daydream.
The third headliner is Father John Misty, a big name in indie with a big fanbase. His droll, low-key songs and stand-up comic stage patter are just right for a theater crowd, but maybe not so much for a festival. I've watched his Pitchfork Live set where he basically stood there and sang for two hours. Who knows, maybe he'll bring along some special effects.
Moving on to the second tier bands, three names stand out for me. Tune-Yards (originally spelled tUnE-yArDs) are a fun, quirky band (but again, pretty dull live, or at least they were dull when I saw them at SXSW a few years ago). Hop Along has Saddle Creek Records pedigree and their new album is getting a lot buzz (because it's good). And U.S. Girls, who was lauded as a standout at this year's SXSW.
I'm only vaguely familiar with The Kills and not familiar at all with ZZ Ward, Benjamin Booker, Hurray for the Riff Raff and Ravyn Lenae.
On a positive note, Maha wisely expanded its selection of local bands to five this year, including a couple of my faves: David Nance and Clarence Tilton. State Disco, Mesonjixx and The Dilla Kids (none of which I've seen play live) round out the line-up.
So, disappointed? Not really. I've been bracing for disappointment since I left last year's earth-shattering show knowing the odds of getting one of those massive names I listed at the beginning of this was slim and none.
From a business perspective, the festival should sell well (Don't underestimate the power of Weezer). The pricing is kind of interesting.
2-day Early Bird general admission passes are $90 — a bargain. The Saturday-only GA advance tickets at $70 cost twice as much as the Friday-only GA advance tickets ($35), which would seem to indicate either a shorter day or less-inviting line-up on Friday? I guess we'll see when the schedules are released. Maybe they're just trying to cash in on those Weezer fans.
It also brings up the question as to what day/night Father John Misty will play. He seems perfect to open for TVOTR, but as a co-headliner, they might move Misty to Saturday to help justify the ticket price. If so, they could lose some Misty fans who won't pay the Weezer tariff.
VIP tickets — which are really the way to go if you're into these bands — are only being sold in 2-Day increments for $290, which is a shame because some folks may only be able to go to one day of the fest. Oddly, you're paying twice as much for two days of fun but they didn't double the "Maha bucks" allocation. Rip!
Even if only a couple bands trip your trigger, at this price point Maha remains a bargain because, let's face it, half the fun is just going to the festival, hanging out on the lawn, drinking beer and enjoying the music. No one locally puts on a better event (thanks in part to their army of volunteers).
See you there…?
* * *
Read Tim McMahan's blog daily at Lazy-i.com — an online music magazine that includes feature interviews, reviews and news. The focus is on the national indie music scene with a special emphasis on the best original bands in the Omaha area. Copyright © 2018 Tim McMahan. All rights reserved.
No Comments »
No comments yet.
RSS feed for comments on this post. TrackBack URL
Leave a comment