by Tim McMahan, Lazy-i.com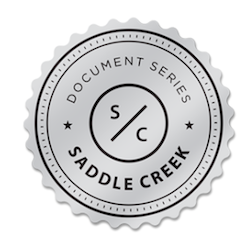 I've practically begged Saddle Creek to launch a singles series for years, and today the label announced that it's finally going to do it.
The Document Series will comprise of an exclusive record featuring unreleased music from artists outside of Saddle Creek's roster, along with a specially curated 'zine highlighting the artist's hometown / music scene, according to the label.
"We see Document as a unique way to reference our past, while at the same time reaching out to bands that aren't already part of the Saddle Creek family and allowing them to shine a light on the art and music of their own communities," says the press release. "It's our way to try to capture a band and their community in a specific place at a specific time, and share that with the world."
The first installment of the Document Series is the two-song Kismet 7" from Seattle's Posse, to be released March 10. Other artists slated for the series include Palehound, Hand Habits and Wilder Maker. You can preorder the Posse 7-inch for $7.99 today from the Saddle Creek website.
Whereas I love this idea, there's one vital component missing — the ability to subscribe to the releases. I'd like to pay one price and have a year's worth of the series' releases delivered to my door. Come on, dudes, offer a subscription service. I guess I'm never satisfied…
Find out more about Posse via this episode of Band in Seattle:
* * *
Tonight at Reverb Lounge its Chicago garage band NE-HI. You read their Ten Questions interview yesterday. Opening the show is Nathan Ma & The Rosettes and Wrong Pets, the new project by Reagan Roeder. $10, 9 p.m.
Meanwhile, right around the corner at The Waiting Room, Lucero headlines with Esme Patterson. $25, 8 p.m.
* * *
Read Tim McMahan's blog daily at Lazy-i.com — an online music magazine that includes feature interviews, reviews and news. The focus is on the national indie music scene with a special emphasis on the best original bands in the Omaha area. Copyright © 2017 Tim McMahan. All rights reserved.
No Comments »
No comments yet.
RSS feed for comments on this post. TrackBack URL
Leave a comment