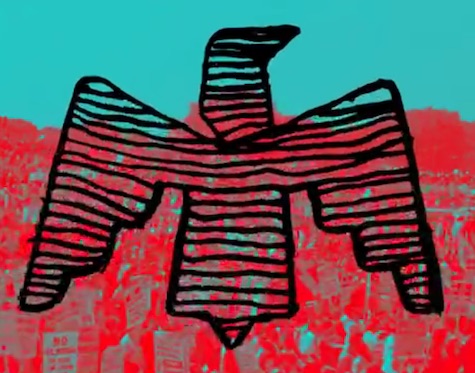 by Tim McMahan, Lazy-i.com
If you're in Omaha or the surrounding area and have even an inkling of interest in the Maha Music Festival you've already heard the line-up. There's no way you could miss it. Still, for Lazy-i readers in far-off lands (or living off the social media grid) here is the list of who will be playing at Stinson Park in Aksarben Village Aug. 19:
Run the Jewels
Belle & Sebastian
The Faint
Sleigh Bells
The New Pornographers
Built to Spill
Torres
Surfer Blood
Priests
High Up
The Hottman Sisters
First time in Maha history where I've been familiar with every act (though I've never heard music from Priests before).
Run the Jewels is a massive "get," though I'm probably the only one in America who didn't like their last couple of albums (I'm more of a Tribe Called Quest kinda guy). However, I dig their new single, "Ticketron." And hip-hop does very well at Maha.
Belle & Sebastian is a bucket list band for me, and by themselves would be worth $55 or more.
Anyone who's been to a Faint concert knows they bring it every night, though I have a feeling they're going to amp things up just a little more for this show.
Sleigh Bells… meh. They've always been a one-note act to me, but they should be fun to watch.
The question I have about The New Pornographers — will Neko Case and Dan Bejar a.k.a. Destroyer be part of this show's line-up? — a central question.
Built to Spill is practically a local band considering how many times they've played in Omaha. If they can keep Doug Martsch from turning it into a 30-minute jam session it could be a great addition.
I've followed singer/songwriter Torres for a few years. She's a quiet addition that will break up a rather noisy day of music.
Surfer Blood is sort of outside of my wheel house. They have their fans.
Like I said, Priests I'd only heard of. I listened to their latest album, Nothing Feels Natural (Sister Polygon Records), on my way to work this morning. Sort of alternative post-punk that's light on melody. We'll see. Part of the fun of any festival is checking out new acts. Maybe they'll stick, maybe not. Check out the song "Pink White House" and tell me it doesn't remind you of Mercy Rule.
Which brings us to the last two acts on the bill — both locals. High Up is a no-brainer — probably the most talked about indie band from Omaha (along with Closeness) in the past couple of years. Christine Fink has a stage presence that never fails to capture an audience.
The Hottman Sisters have the unfortunate chore of kicking off the day, a slot that historically is played to an empty field, which brings up one of the criticisms of Maha. When Maha first began all those years ago, local acts played a big role in the festival, playing throughout the day. In years' past locals alternated with nationals throughout the day up until the early evening. These days local acts are relegated to the first two slots of the day and The Faint (who, while a local band, has a national following).
I can't say I can necessarily blame Maha pulling back on locals. They don't sell tickets and most can be seen any given weekend in Benson or some other midtown venue. The loser, of course, is local bands, who are denied a platform for expanding their audience.
Some also might criticize Maha because it no longer features under-the-radar indie acts as in years past. Let's face it, other than Priests and Torres, this line-up is packed with well-established names. You won't hear any complaints from me, though there is something to be said when a festival can look back and say something like "We had Dum-Dum Girls back in the day…."
So,  the big question: Will it sell out. Or more specifically, is this line-up strong enough to compete with Lady Gaga? The answers are yes and no. Yes, I think it will sell out eventually (probably day of show), but no, it can't compete with Gaga.
To me, there is a sweet irony to Lady Gaga playing the same day as Maha. I've always viewed her as a novelty act, a kids' pop act… until this latest album, which goes beyond the usual kitsch and could, at times, appeal to an indie-music listening audience. Maybe that's why her latest record seems to be lagging behind the previous ones, at least in terms of notoriety. The new, less popular Lady Gaga would have fit right in on a Maha bill…
By the way, I've heard from two or three people who are NOT associated with Maha that Gaga could make a surprise appearance at the festival. After all, she used to have a Nebraska connection, and her show has been sold out for a long time. I think it's highly unlikely, and even if she did, how does that help Maha sales when they can't market around it?
* * *
The new Milk Run launches tonight at Midtown Art Supply, 2578 Harney St.. The featured bands: Altas, DHX (Derick Higgins), Mint Wad Willy and Jack McLaughlin. $7, 9 p.m. Could be weird.
Meanwhile, tonight at fabulous O'Leaver's, it's Sam Adam Martin, Thick Paint, and the premier of Thor Dickey. 9:30pm. $5.
Also tonight, it's night one of two nights of Matt Whipkey Band at Growler USA, 16274 Evans St., which I wrote about here yesterday. The gig is free and starts at 9 p.m.
And The Nadas return to The Waiting Room tonight with Dan Tedesco. $15, 9 p.m.
Tomorrow night it's back to O'Leaver's for Bien Fang, Siamese and Idlefox. $5, 9:30 p.m
The legendary Voodoo Glow Skulls are headlining at Lookout Lounge Saturday night. Joining them are The Shidiots, Graveyard Smash, Heat@aves and Noizewave. $10, 8 p.m.
That's all I got. If I missed your show, put it in the comments section. Have a great weekend. This rain has to end sometime…
* * *
Read Tim McMahan's blog daily at Lazy-i.com — an online music magazine that includes feature interviews, reviews and news. The focus is on the national indie music scene with a special emphasis on the best original bands in the Omaha area. Copyright © 2017 Tim McMahan. All rights reserved.
No Comments »
No comments yet.
RSS feed for comments on this post. TrackBack URL
Leave a comment