by Tim McMahan, Lazy-i.com
The internet exploded yesterday afternoon with news that Cursive has launched its own record label called 15 Passenger Records, which I assume is a romantic nod to the Ford Transit Wagon passenger van. Actually, that only hauls 12 passengers. The only 15-passenger vehicle I know if is a short bus.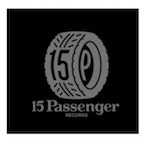 Anyway, according to the website, 15 Passenger is "the new INgrooves-distributed label founded and run by the members of Cursive: Tim Kasher, bassist Matt Maginn, and guitarist/vocalist Ted Stevens. In addition to 'No Resolution' this winter, the label plans to reissue Cursive's entire catalog beginning with their 1997 debut LP 'Such Blinding Stars For Starving Eyes' and their 1998 LP 'The Storms of Early Summer: Semantics of Song' in fall of 2017."
Let's start with INgrooves. It's a multinational conglomerate that offers "a full suite of distribution, marketing and technology services to help independent labels and content owners manage their music with delivery to more than 600 destinations in over 200 territories worldwide." It's also "artist and label services" and "rights management." INgrooves releases include the latest from Jimmy Buffett, Joe Bonamassa, Home Sandoval, Esme Patterson, Violet Sands, and more.
No Resolution is the name of Tim Kasher's third solo album, slated for release March 3 on 15 Passenger, which you can pre-order right now from the 15 Passenger Bandcamp store in splatter blue vinyl and CD format. The first track off the album, "An Answer for Everything," is below:
With this news, a few questions come to mind: Will 15 Passenger also be releasing The Good Life's back catalog as well as recordings from past Ted Stevens' projects? How about new music from other bands, just like a regular label? Do Saddle Creek Records bands control the rights to their back catalog for these kinds of releases or did Cursive purchase those rights from Saddle Creek? And what happens to those Cursive back catalog listings on the Saddle Creek Records website?
And the biggest question of all: What does this mean for Saddle Creek Records in general? One assumes a label like Saddle Creek floats its boat on revenue generated from back catalogue sales. Cursive has to be one of the label's biggest sellers. Given Saddle Creek's history of one-record deals, does this mean the next Cursive record will be coming out on 15 Passenger? Stay tuned…
* * *
It's another relatively big weekend of mainly local shows.
One of the bigger offerings is happening tonight at Almost Music in the Blackstone District. Sunbrain frontman Dave Dondero headlines a show that includes Simon Joyner and David Nance. $7, 8 p.m. I suggest buying a growler of beer over at Scriptown and bring it over, then drink it hillbilly-style. Brad won't mind.
Just a stone's throw away, The Brothers Lounge is hosting Lincoln band The Morbs tonight. Opening is new Omaha riot grrrl act Boner Killerz (the winner of the "best new band name" award) and Those Far Out Arrows. $5, 10 p.m.
Meanwhile, Lincoln garage rock band Red Cities headlines tonight at fabulous O'Leaver's. Also on the bill are The Broke Loose and Half Wit. $5, 9:30 p.m.
Tomorrow night (Saturday), Worried Mothers returns to O'Leaver's with Total Voltage and Chalant. $5, 9:30 p.m.
CANCELLED DUE TO WEATHERAnd then Sunday night, LA dark wave band Cold Cave plays at The Waiting Room with Drab Majesty and Lincoln leather geek dance sensation Plack Blague. $12 Adv/$15 DOS. Starts at 9.
That's all I got. If I forgot your show, put it in the comments section. Have a great weekend, and don't get caught in the ice.
* * *
Read Tim McMahan's blog daily at Lazy-i.com — an online music magazine that includes feature interviews, reviews and news. The focus is on the national indie music scene with a special emphasis on the best original bands in the Omaha area. Copyright © 2016 Tim McMahan. All rights reserved.
No Comments »
No comments yet.
RSS feed for comments on this post. TrackBack URL
Leave a comment