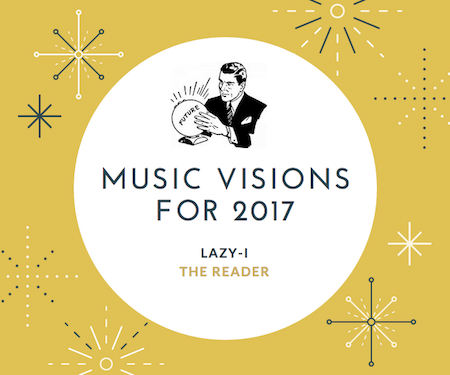 by Tim McMahan, Lazy-i.com
Well I'm back from CES in Vegas. What can I say, it was like going to a gigantic Best Buy where you couldn't actually buy anything — actually it was more like a million-square-foot-sized Best Buy filled with thousands of people wearing laminates. I saw lots of TV sets, drones, fitness trackers, toy-like robots and geeks wearing Virtual Reality headsets.
One of my favorite moments: Getting to meet SiriusXM DJ Richard Blade, one of the voices on SiriusXM's "1st Wave" channel. Richard, who I listen to daily, was the first thing I heard as I walked onto the CES show floor Thursday. He couldn't have been any nicer.
My other brush with fame was a walk-by from Shaquille O'Neal as I waited in line for a convention shuttle. Transportation was a problem at CES, among other things. How CES got to be as huge as it is considering how poorly the event is managed is beyond me. It makes SXSW seem like a well-oiled machine in comparison.
If I had to make a prediction based on my week at CES, I'd say we're five years or more from ever seeing VR being more than a curious novelty, though the music industry is going to try to leverage the tech (see below). Self-driving cars? Not anytime soon, but who really wants them?
* * *
Speaking of predictions, yesterday my annual Visions of 2017 music predictions story went online at TheReader.com. It's also in the January printed edition. I look back at my 2016 predictions and try to wow you with my visions of the coming year. It's one of my more popular annual articles. Check it out and see who we'll all be talking about this time next year.
* * *
It's the last day to enter to win a copy of the Lazy-i Best of 2016 Comp CD.
It's a collection of my favorite indie tunes that I came across last year as part of my tireless work as a music critic for Lazy-i. Among those represented: Car Seat Headrest, Sam Evian, Whitney, Big Thief, Father John Misty, A Tribe Called Quest, Conor Oberst, Navy Gangs, Jeff Runnings and lots more. The full track listing is here, or take a listen if you have Spotify.
Entering to win a CD copy is super simple: 1. Send an email with your mailing address to tim.mcmahan@gmail.com, or 2) Write a comment on one of my Lazy-i related posts in Facebook, or 3) Retweet a Lazy-i tweet. You also can enter by sending me a direct message in Facebook or Twitter. I'll announce the winner tomorrow.

* * *
Read Tim McMahan's blog daily at Lazy-i.com — an online music magazine that includes feature interviews, reviews and news. The focus is on the national indie music scene with a special emphasis on the best original bands in the Omaha area. Copyright © 2016 Tim McMahan. All rights reserved.
No Comments »
No comments yet.
RSS feed for comments on this post. TrackBack URL
Leave a comment