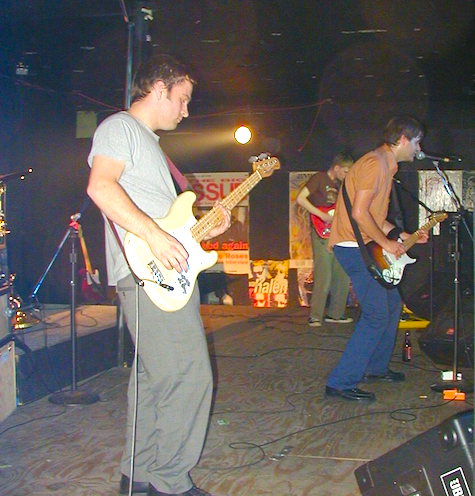 by Tim McMahan, Lazy-i.com
For this week's Throwback Thursday special, guess the band in the above photo, along with the venue and approximate date. Here's a hint: These out-of-towners have played here about a dozen times since, including at a rather majestic downtown venue… Put your guesses in the comments section.
The only show worth mentioning tonight is local surf-rock band The Sub-Vectors are playing down at Slowdown Jr. Joining them are The Regulation and The Fat Timmys. $7, 9 p.m.
* * *
Read Tim McMahan's blog daily at Lazy-i.com — an online music magazine that includes feature interviews, reviews and news. The focus is on the national indie music scene with a special emphasis on the best original bands in the Omaha area. Copyright © 2016 Tim McMahan. All rights reserved.
2 Comments »
It's Death Cab at Sokol underground, maybe early '00s. Recognize the bass player and Chris Walla on guitar.

Comment by Jeremy S — August 25, 2016 @ 12:58 pm

Death Cab for Cutie at Sokol Underground – 10/16/2001?

Comment by Paul — August 25, 2016 @ 12:59 pm
RSS feed for comments on this post. TrackBack URL
Leave a comment