by Tim McMahan, Lazy-i.com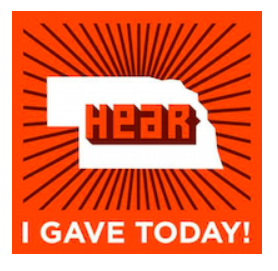 On this, the high holy holiday of local fundraising — Omaha Gives Day — I'm not going to get all "guilt trippy" except to say that if you're a musician or you run a business that involves music or you're a music fan, you really should take a second and make a donation to Hear Nebraska.
I'm not saying this just because (full disclosure) I'm a Hear Nebraska Board Member; I'm saying it because there isn't any other organization in this state that does what HN does for local music — from first-rate promotion of local shows to music journalism to the org's emerging role as an important resource for putting on local shows. And now with the Good Living Tour, HN is getting bands heard in the outer reaches of the state.
As Hear Nebraska continues to grow, I see it becoming an even more crucial resource for local bands and musicians, which are at the heart of what HN is trying to accomplish.
You can be a part of it. Just go to this page on the Omaha Gives website and make a donation of any size. You'll feel good all over.
* * *
There's a boatload of shows happening tonight.
Top of my list (of course) is Digital Leather at The Brothers Lounge. The band has a new record, All Faded (FDH Rcords) coming out June 23 that is arguably the best thing they've ever done, and is destined to be in my top-10 "favorites" list of 2015. This morning CMJ premiered the first track off the album, "Cold Inside," which you can hear below.
See them perform it live tonight. Also on the bill is Indianapolis self-proclaimed "swampydeathrock" band We Are Hex. No cover listed, but probably $5. 9 p.m.
Also tonight, Iowa invades The Sydney with Des Moines bands Christopher the Conquered and Gloom Balloon. Gloom Balloon is the debut solo project by Patrick Tape Fleming, founder of semi-legendary indie rock band The Poison Control Center. Also on the bill is Omaha's Bazile Mills. $8, 9 p.m.
Finally, there's a big, free Omaha Gives showcase happening at The Slowdown tonight. On the bill: Orenda Fink, Louder than a Bomb, Opera Omaha, McCarthy Trenching and Super Ghost. The fun starts at 8 p.m.
* * *
Read Tim McMahan's blog daily at Lazy-i.com — an online music magazine that includes feature interviews, reviews and news. The focus is on the national indie music scene with a special emphasis on the best original bands in the Omaha area. Copyright © 2015 Tim McMahan. All rights reserved.
No Comments »
No comments yet.
RSS feed for comments on this post. TrackBack URL
Leave a comment