by Tim McMahan, Lazy-i.com
After the last couple weeks of stellar reunion shows, I guess it's payback time. A glance at the calendars for the next few weeks (months) shows very few national touring indie bands coming through Omaha. The winter months always are rather sparse show-wise, but somehow we make it through to the spring.
It ain't all bad news. In fact, there's at least one big show going on this weekend.
Big Harp is playing a set tonight at fabulous O'Leaver's. The band just opened for The Good Life last week, and now here they are again, this time on The Club's tiny stage. Opening is the always impressive McCarthy Trenching. $5, 9:30 p.m. Expect a crush mob Looks like O'Leaver's will be booking a lot of indie shows in the coming months. An early heads up for next Tuesday night's show — The Good Life performing songs from their upcoming new release.
Also going on tonight, All Young Girls Are Machine Guns headlines at Reverb Lounge. Openers include the legendary Dereck Higgins, Xion and CJ Mills. $7, 9 p.m.
Barley Street tonight has Calling Cody, The Doneofits, Those Far Out Arrows, and Jazz Brown and the Afterthoughts. $5, 9 p.m.
And isn't this supposed to be Benson First Friday? Maybe not… I don't see any BFF info online anywhere. Maybe they're skipping it this month.
Anyway, that's it for shows this weekend. If I missed your show, put it in the comments section.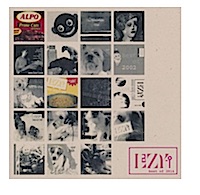 Hey, while I still got your attention, a reminder that you can win a copy of the Lazy-i Best of 2014 compilation CD — it's the special 20th Anniversary Edition. The collection includes songs by Courtney Barnett, Sun Kil Moon, Tei Shi, Protomartyr, The Faint, Stand of Oaks, The Lupines and a ton more.  The full track listing is here. Entering has never been easier: To enter either: 1. Send an email with your mailing address to tim.mcmahan@gmail.com, or 2) Write a comment on one of my Lazy-i related posts in Facebook, or 3, Retweet a Lazy-i tweet.Hurry, contest deadline is midnight Jan. 6!
* * *
Read Tim McMahan's blog daily at Lazy-i.com — an online music magazine that includes feature interviews, reviews and news. The focus is on the national indie music scene with a special emphasis on the best original bands in the Omaha area. Copyright © 2015 Tim McMahan. All rights reserved.
No Comments »
No comments yet.
RSS feed for comments on this post. TrackBack URL
Leave a comment