by Tim McMahan, Lazy-i.com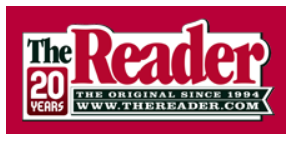 The Reader announced via its website yesterday that the newspaper is changing from a weekly to a monthly print schedule. The reasons for the change were outlined in editor John Heaston's essay, which was shared via social media. I also posted a link to my Over the Edge column that talked about the publication schedule shift, which you can read here (or in the printed paper).
As I say in my column, basic content that makes up The Reader — the columns, the music and arts reporting, etc. — will continue, but on a monthly basis. The hope (or at least my hope) is that with the new format, writers will be able to do more in-depth reporting and descriptive storytelling. Back in the early days of The Reader, Heaston or whoever was your section editor insisted that band features be a minimum of 1,600 words, enough to cover two two-page spreads, along with the prerequisite band photos and pull-quotes. And if you went longer than 1,600, well the more the merrier.
As the years went by and advertising began to evaporate, the news holes began to shrink until it got to the point were band features/interviews couldn't exceed 600 words. Begging would get you as much as 800, but no more. I insisted that no in-depth interview could be written for less than 1,200 words and found myself escaping to my own column space — 1,000 words — for enough real estate for depth and background. Of course, there was no room left for photos.
Even cover stories began to shrink over the years. Some of those early Bright Eyes and Faint cover stories in The Reader ran over 3,000 words. Today I'd be lucky to get half that space.
Now with a monthly format that (hopefully) promises at least 64 pages per issue we'll be able to get back to real reporting and storytelling — that is, if people still want to read those kinds of detailed stories. Facebook and Twitter have eroded readers' attention spans, especially young readers who would rather swipe through a series of photos on Instagram than read what those photos were about. Is Social Media bringing to an end the age of long-form literary journalism? Time will tell.
Anyway, the new format doesn't launch until January, so you'll get at least five more issues of The Reader in the weekly format — and five more Over the Edge columns — until the monthly format comes into play. As part of the change, The Reader promises to update its website daily, and many of the weekly — or more timely — items (reviews, previews, schedules) will be updated as necessary. As I mention in the column, I'm still weighing whether Over the Edge makes sense anywhere but in print (where it will appear monthly). John and I are tossing around ideas for some sort of weekly online content — maybe even video, who knows?
My primary online presence will continue to be right here, at Lazy-i.com, which I'll continue to write until they pry this Mac keyboard from my cold, dead hands, even if I'm down to two measly readers per day. A music critic has to write…
* * *
Nothing happening show-wise tonight, but holidays have always been a good bar night. Look around and see what's open. And have a good Thanksgiving. See you tomorrow, when Black Friday comes…
* * *
Read Tim McMahan's blog daily at Lazy-i.com — an online music magazine that includes feature interviews, reviews and news. The focus is on the national indie music scene with a special emphasis on the best original bands in the Omaha area. Copyright © 2014 Tim McMahan. All rights reserved.
No Comments »
No comments yet.
RSS feed for comments on this post. TrackBack URL
Leave a comment