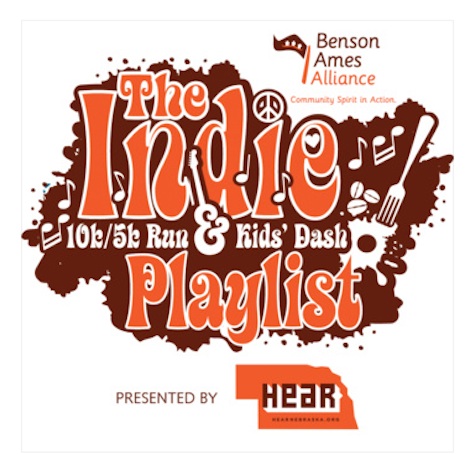 by Tim McMahan, Lazy-i.com
If you don't know what The Indie is, well then shame on you. That means you haven't read my column in The Reader. So take a moment, go here, and read all about the event, which takes place this Saturday morning in the heart of Benson.
As I say in the column, based on the route it's one of the most challenging urban 10K foot races in America, a course so hard it makes the Corporate Cup look like a leisurely stroll in the park. And the 5K run looks almost as challenging…almost. Details about signing up are here at theindieomaha.org. Proceeds go to support Benson and Fontenelle Parks.
In commemoration of the event, Hear Nebraska has put together a little ol' playlist. "It's an eclectic collection featuring about 43 minutes of Nebraska music — all bands who play in Benson frequently. Genres range from hip-hop to Americana to indie rock to punk to garage to electronic. It's a free download for 'The Indie' racers (and anyone else who needs some sonic inspiration)."
Check it out below or go here to download the whole dang thing. Artists include  Yuppies, The Lupines, Digital Leather, The Big Deep, Derby Birds, M34n Str33t, John Klemmensen & the Party, Eli Mardock and more. Makes me want to go running right now.
* * *
The Waiting Room is hosting its annual Canada Day concert tonight featuring local bands doing short sets of Canadian songs (Expect some Neil Young, Joni Mitchell and, of course, BTO). Performers include Vago, Matt Whipkey + Band, All Young Girls are Machine Guns, Southpaw Bluegrass Band, The Filter Kings, Tara Vaughan, Michael Campbell, The Electro-Rangers, Castor Impetus and Virginia Tanous. The show is a benefit for Heartland Family Services. $8, 7 p.m.
Also tonight is the bi-weekly Viva La Vinyl night at The Barley Street Tavern hosted by Brad Hoshaw. Bring down one of your own records and put your name on the list to spin a side of an LP on the Barley's house turntable. Sign-up begins at 7.
* * *
Read Tim McMahan's blog daily at Lazy-i.com — an online music magazine that includes feature interviews, reviews and news. The focus is on the national indie music scene with a special emphasis on the best original bands in the Omaha area. Copyright © 2014 Tim McMahan. All rights reserved.
No Comments »
No comments yet.
RSS feed for comments on this post. TrackBack URL
Leave a comment