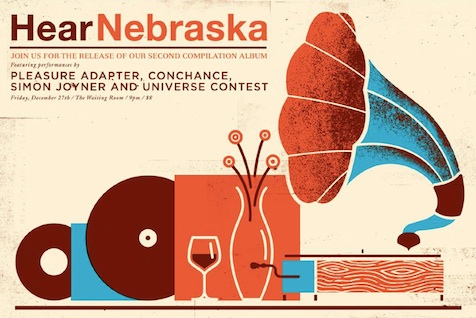 by Tim McMahan, Lazy-i.com
Well, I tried to go to Icky Blossoms at The Waiting Room last night but there was a snafu with "the list." It's an occupational hazard — even though they told you you're on the list, there's always a chance someone forgot. As The New Yorker footnotes in its "Night Life" section: "Musicians and night-club proprietors live complicated lives; it's advisable to check in advance to confirm engagements."
Usually it's no big deal — I simply pay to get in, but not this time. The show was sold out. Yes, Icky Blossoms has broached that next level of local success — they're too big for The Waiting Room. I have no idea how well their last CD sold, but it looks like Saddle Creek may have a new Faint on their hands (which is good because they no longer have the old Faint on their hands (except in their back catalog)). The real test will be how well Icky draws outside the holiday season. Could be they simply had a huge list last night of friends and family, albeit missing one person.
It's possible we could have a replay tonight at The Waiting Room as Hear Nebraska celebrates the release of its Vol. 2 vinyl compilation. Tonight's show features (in this order) Pleasure Adapter, Conchance, Simon Joyner and the Ghosts and headliner Universe Contest. $8, 9 p.m. Don't forget to pick up a slab of vinyl while you're there.
Also tonight, Pro-Magnum returns to fabulous O'Leaver's with Weakwick. $5, 9:30 p.m.
Two shows Saturday night feature Nebraska ex-patriots.
Over at The Sydney, former Nebraskan now Philly guy Mike Jaworski (Virgin Islands, The Cops) returns to the stage. Sayeth Mr. Jaworski: "I'll be playing solo with some members of the Sons Of joining me on a few songs. I'll be playing mostly new songs I've been working on for a new project called Shocking Waves. I may throw in a song or two by The Cops and Virgin Islands for fun too. We'll see…" Jaws opens and is followed by Lincoln's Weldon Keys and then everyone's favorite local rock stars, The Sons of The Sydney. $5, 9 p.m. Check out some Shocking Waves below:
Meanwhile former Omahan now New Yorker Steve Bartolomei (Mal Madrigal) and Co. plays down at Slowdown Jr. Saturday night. Steve talks about what he's been up to in this exclusive Hear Nebraska interview.  Opening is Noah Sterba and Ben Brodin. $8, 9 p.m.
On Sunday down at Slowdown Jr. James Maakestad (Electric Chamber Orchestra, ex-Gus & Call) headlines with Millions of Boys and Anna McClellan. $7, 9 p.m.
Meanwhile John Klemmensen hosts another "Songwriter Death Battle" at The Waiting Room Sunday night. The evening features a plethora of local singer/songwriters each playing one song using Klemmensen's acoustic guitar. $7, 9 p.m.
* * *
A reminder to enter to win a copy of the Lazy-i Best of 2013 compilation CD. The collection includes songs by Arcade Fire, Eli Mardock, Foxygen, Yuppies, Tim Kasher, Speedy Ortiz, Low and a ton more.  The full track listing is here. Entering has never been easier: To enter either: 1. Send an email with your mailing address to tim.mcmahan@gmail.com, or 2) Write a comment on one of my Lazy-i related posts in Facebook, or 3, retweet a Lazy-i tweet. You also can enter by sending me a direct message in Facebook or Twitter. Hurry, contest deadline is midnight Jan. 6!
* * *
Read Tim McMahan's blog daily at Lazy-i.com — an online music magazine that includes feature interviews, reviews and news. The focus is on the national indie music scene with a special emphasis on the best original bands in the Omaha area. Copyright © 2013 Tim McMahan. All rights reserved.
No Comments »
No comments yet.
RSS feed for comments on this post. TrackBack URL
Leave a comment