by Tim McMahan, Lazy-i.com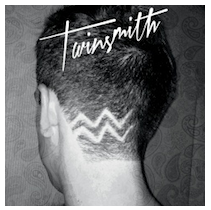 Omaha indie band Twinsmith is seeing its first 7-inch released on none other than Saddle Creek Records Nov. 19. The tracks are "Honestly" b/w "1'30" and "Big Deal."
"Honestly" premiered today on Minneapolis' Radio K (right here). "Recorded and produced by Matt Carroll and J.J. Idt at Omaha's Little Machine Studio, 'Honestly' – with its fuzzed-out guitars reminiscent of Blue Album-era Weezer – shows off the evolution of a band still in its infancy." Congrats Twinsmith, and welcome to the big time.
* * *
Maria Taylor's next track off upcoming Saddle Creek LP Something About Knowing, titled "Tunnel Vision" premiered today on that great, gray bible of all things financial, The Wall Street Journal (here). The new album hits the streets Oct. 29.
* * *
In other release news, Omaha proto-punkers (not sure what that means, but it sounds important) Pro-Magnum premiered two new songs on HearNebraska.org. available from their Bandcamp page (below).
* * *
An addendum to yesterday's Tim Kasher reviews round-up: Paste Magazine yesterday gave Adult Film a rousing 8.7 rating, concluding: "If this is a new avenue of self-loathing for Kasher, it's a welcome change of form from the perhaps more angular output of his screaming past. His gifts for wrangling emotive detours from unlikely sonic realms is his best talent, but he couldn't do that without his crafty capacity for language, too. Stripped of the angry adornments of his yesteryears, we now may take him at his word."  Read the full review here.
* * *
Read Tim McMahan's blog daily at Lazy-i.com — an online music magazine that includes feature interviews, reviews and news. The focus is on the national indie music scene with a special emphasis on the best original bands in the Omaha area. Copyright © 2013 Tim McMahan. All rights reserved.
No Comments »
No comments yet.
RSS feed for comments on this post. TrackBack URL
Leave a comment