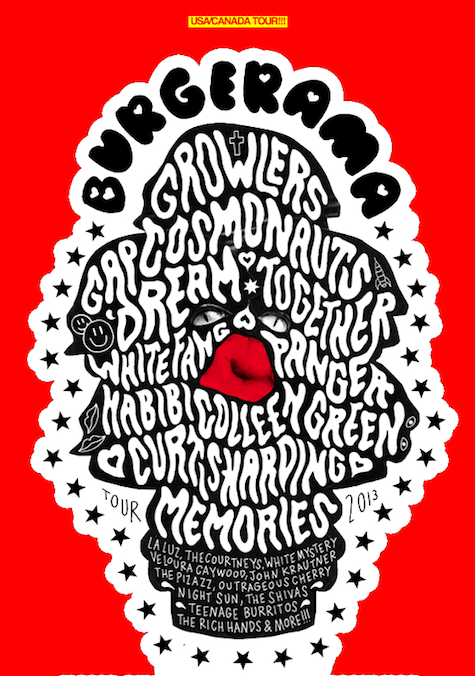 by Tim McMahan, Lazy-i.com
I was on the list and everything for last night's Orenda Fink / Simon Joyner show and just plain didn't make it and I feel guilty about that. Another super-early morning kept me out of the clubs. There are  trade-offs in life, it seems…
I have tomorrow off so there's nothing stopping me from hitting the big Burgerama Caravan of Stars Tour 2013 at Slowdown Jr. tonight. Burger Records is a red hot DIY punk / indie/ noise label. The SF Weekly called the label "contingent somehow within and decidedly apart from the indie rock sphere, boasting followers from all walks of life and similarly branded offshoots springing up throughout the land." I've read that three times and I still don't know what it means.
Anyway, the label's biggest stars are on the road together and have finally made it to Omaha. The headliner is California act The Growlers. They call their sound "Beach Goth," which also happens to the be name of their limited edition cassette-only 2012 Burger release. Their last formal album came out on FatCat this year.
Also on tonight's Burgerama fightcard: Cosomonauts, Together Pangea, Gap Dream, White Fang with Colleen Green, and The Memories. All for $13. Show starts at 8. Why go to a festival when the festival can come to you?
Check out the story of Burger Records:
And here's some samples from tonight's bands:
Also tonight, punk band The Vibrators return to The Brothers Lounge with Bullet Proof Hearts, and Officially Terminated. $5, 9 p.m.
* * *
In this week's column, I get cold-called by Springfield, Missouri band The Gardenheads in the form of their new vinyl release Growing Season. Album of the year? Maybe, maybe.. You can read it in this week's issue of The Reader or online right here.
* * *
Read Tim McMahan's blog daily at Lazy-i.com — an online music magazine that includes feature interviews, reviews and news. The focus is on the national indie music scene with a special emphasis on the best original bands in the Omaha area. Copyright © 2013 Tim McMahan. All rights reserved.
No Comments »
No comments yet.
RSS feed for comments on this post. TrackBack URL
Leave a comment