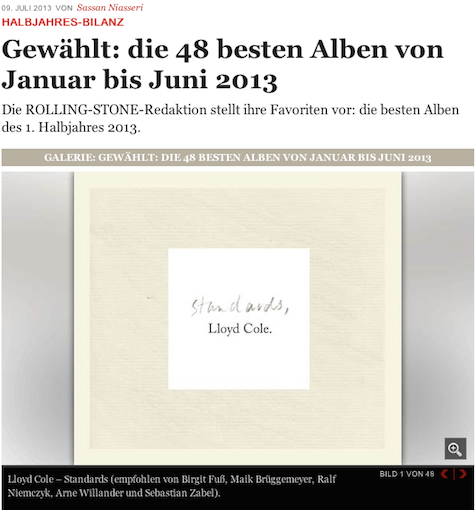 By Tim McMahan, Lazy-i.com
With everything else that's been released so far this year, it's strangely satisfying that the German edition of Rolling Stone magazine ranked Lloyd Cole's new album, Standards, as the best album for the first half of 2013. I'm not sure the record has even landed on record store shelves in the U.S., though you can buy it (as I did) directly from Lloyd Cole's website. I'm contemplating writing a full review of the record, which is Cole's best since 2003's Music in a Foreign Language (which, for my money, was only eclipsed by Rattlesnake).
It's interesting to see how other albums ranked in the German pages. The new Vampire Weekend was No. 2, followed by Iron & Wine, Daft Punk and Nick Cave and the Bad Seeds (which gets my vote for best of the first half of '13). See the full German Rolling Stone list right here.  And check out my reviews roundup for the first two quarters here and here (Lloyd Cole will be included in the third quarter round-up).
* * *
Jake Bellows "I Know You" was the "free song of the day" at Pure Volume last week. You can still listen and download the groovy track right here, or simply check it out below. Jake's Saddle Creek debut, New Ocean, comes out Aug. 6.
* * *
Two shows of note tonight:
Big Al of The Big Al band wrote to say that Japanese punk rockers Mugen Hoso is playing tonight at The Barley Street Tavern with Lincoln punkers Crap Detectors and, of course, The Big Al Band. $5, 9:30 p.m.
Also tonight is the Maha Music Festival Showcase at The Waiting Room featuring Funk Trek, Midtown Marauders and winner of the Maha battle of the bands, Purveyors of the Conscious Sound, who will be opening this year's Maha Fest. This free show starts at 9.
* * *
Read Tim McMahan's blog daily at Lazy-i.com — an online music magazine that includes feature interviews, reviews and news. The focus is on the national indie music scene with a special emphasis on the best original bands in the Omaha area. Copyright © 2013 Tim McMahan. All rights reserved.
No Comments »
No comments yet.
RSS feed for comments on this post. TrackBack URL
Leave a comment