by Tim McMahan, Lazy-i.com
Three-day weekend. Too bad it's supposed to rain. And that the highlight of the weekend — Sharon Jones + The Dap Kings at River's Edge Park — has been cancelled.
Anyway…
First, tonight at the Sweatshop Gallery in Benson, it's the 7-inch release show for The Dad (formerly Dads). Also on the bill: Fletch (Mike Schlesinger of Gus & Call, a band which no longer exists for reasons that have not been made clear to me but which I find unfortunate); Pro-Magnum (Paul Hanson (Perry H. Matthews, Fucking Party), Pat Oakes (Ladyfinger), Johnny Vredenburg (Digital Leather); and Sister-Kisser. $5 cover gets you in and beer (for a limited time), an additional $5 gets you a copy of The Dad 7-inch. Show starts at 9.
Also tonight, So-So Sailors returns to Fabulous O'Leaver's for a gig that includes the production of the play "Wu World Woo," which will be accompanied by Electric Chamber Music (more ex-Gus & Call members James Maakestad along with Aaron Markley, Daniel Ocannto and Dan McCarthy). Should be weird fun. Everything at O'Leaver's is weird fun. $5, 9:30 p.m.
Lest we forget, Cheap Trick is playing at Stir Cove tonight. Tickets are a whopping $50 for a band that played for free in Memorial Park two years ago. 8 p.m.
Tomorrow night (Saturday) it's the Skypiper EP release show at The Waiting Room with Twinsmith (new Betsy Wells w/Oliver Morgan (ex-Little Brazil) on drums) and Lawrence faves Cowboy Indian Bear. $7, 9 p.m.
Also Saturday night, Max Fischer has his EP release show w/ Downtown James Brown at The Sydney. Gig includes pals Touch People (Darren Keen), M34n Str33t and possibly a plethora of others. 9 p.m.
Also Saturday, Killer Blow returns to The Brothers Lounge with Pleasure Adapter and Howard. This one's a knock-out. $5, 9 p.m.
Also finally on Saturday, Snake Island headlines at O'Leaver's with LA's Vinyl Williams and Monarchs of Speed. $5, 9:30 p.m.
Sunday, what would have been a perfect night for shows (since most of us don't have to get up to go to work the next day), has nothing happening. Drag.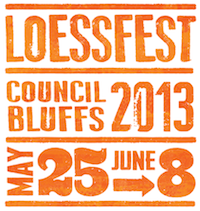 Then it's Memorial Day and what was supposed to be the big free Sharon Jones and the Dap Kings show at River's Edge Park. Unfortunately, the band cancelled Monday's show along with their gig at the Santa Cruz Blues Festival due to "an urgent family matter," according to their Facebook page. The rest of what has been marketed as the re-introduction of the Playing With Fire concert series will go on as planned Monday, along with the "Food Truck Festival," but the loss of Jones/Dap Kings was a real knee-capper to my weekend.
Anyway, if you're headed over there, the festivities are all part of what's being marketed as "Loessfest," It starts Saturday with the ultra-lame Mike Love version of The Beach Boys featuring creepy John Stamos. The Playing with Fire portion Monday kicks off at 4 p.m. with a handful of blues bands, Satchel Grande, and then something called Vintage Trouble. More details, including parking information, are available at http://loessfest.com/
Also Monday, O'Leaver's is hosting a Memorial Day show with Arless Nance, Brian Detweller and ManCavesAreForCaveMen. $5, 9:30 p.m.
Have a good holiday. Stay dry.
* * *
Read Tim McMahan's blog daily at Lazy-i.com — an online music magazine that includes feature interviews, reviews and news. The focus is on the national indie music scene with a special emphasis on the best original bands in the Omaha area. Copyright © 2011 Tim McMahan. All rights reserved.
2 Comments »
John Laughlin(The Fucking Party, Perry H. Matthews) has joined PRO-MAGNUM. He shreds. That is all.

Comment by JVD — May 24, 2013 @ 2:17 pm

I would have enjoyed seeing Cheap Trick but the most I would pay is $25 for that particular experience and it had better be in a better location. The accoustics are horrible. I do want to point out that it is misleading to say they played for free at Memorial Park. I'm 99.9% sure they got paid by someone.

Comment by omahahaha — May 29, 2013 @ 7:53 am
RSS feed for comments on this post. TrackBack URL
Leave a comment